Sainsbury loan from Jiangsu to Inter furthers Suning project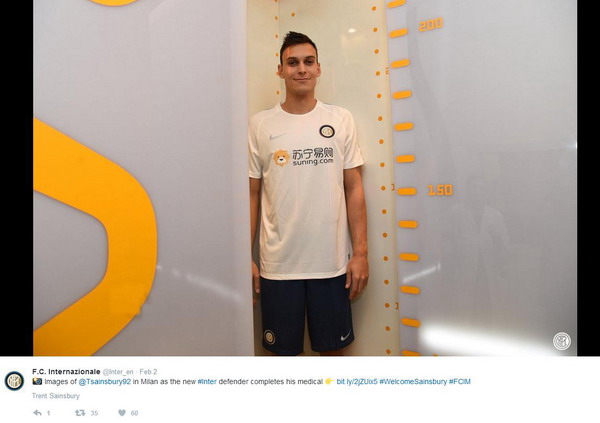 Australian international footballer Trent Sainsbury poses for a photograph while undergoing his medical as part of his loan deal from Jiangsu Suning to Inter Milan, Feb 1.[Photo/Twitter.com/Inter_en]
Trent Sainsbury has bucked the trend of foreign footballers being funneled into the Chinese Super League (CLS) on multimillion dollar transfers with a loan move to Serie A side Inter Milan from Jiangsu Suning on Feb 1.
Although the transfer's logistics were undoubtedly simple, given the fact Suning Holdings Group owns both clubs, the arrival of the Australian international in northern Italy will likely come as a surprise to many European football fans given his relatively unknown status.
Sainsbury enjoyed a fine first season at the Nanjing-based club in 2016 and formed a rock solid partnership in defense with Korean international Hong Jeongho helping the club to snatch an impressive second place in the league.
The Perth-born center back is 25 years-old, certainly still on the rise with ample room for improvement, but an arguably more important factor in the transfer was the rule change imposed by the Chinese Football Association (CFA) on Jan 16 limiting clubs to fielding three foreign players.
With Ramires, Alex Teixeira, and Roger Martinez somewhat cemented in the starting 11, the move represents both a pragmatic logistical decision and a fantastic opportunity for the Socceroo.
The individual impact of Sainsbury upon both Inter Milan and Serie A awaits to be seen, more vital, however, is the link footballing pipeline that now runs between the capital of Jiangsu and Lombardy in both directions and the sense Sainsbury is merely the beginning.
Most Popular
Highlights
What's Hot