Ex-NBA star Rodman gets probation on driving charges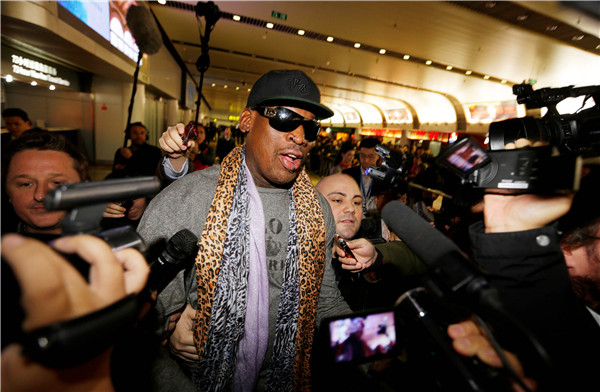 File photo shows former NBA basketball player Dennis Rodman speaking to the media after returning from his trip to the Democratic People's Republic of Korea (DPRK) at Beijing airport, Dec 23, 2013. [Photo/Agencies]
Former pro basketball star Dennis Rodman pleaded guilty and was sentenced to three years informal probation on Monday on charges that he drove the wrong way on a California highway, forcing another car to swerve into a concrete dividing wall.
Rodman was also sentenced to 30 hours of community service and ordered to donate $500 to a victim witness emergency fund, Orange County District Attorney's Office spokeswoman Anna Bradley said.
Rodman's attorney, Paul Meyer, said in an emailed statement, "We appreciate the careful review of the district attorney to make the right call." Meyer said the incident was caused by "poor sign placement" on the roadway.
Prosecutors initially charged Rodman, 55, with hit-and-run that causes property damage, driving a motor vehicle across a dividing section, giving false information to a police officer and driving without a valid license.
Rodman, a former National Basketball Association forward with the Detroit Pistons and the Chicago Bulls, drove his sport utility vehicle the wrong way on Interstate 5 in Santa Ana early on the morning of July 20, prosecutors said.
The driver of a sedan driving the correct way swerved to avoid a head-on collision with Rodman's SUV and slammed into a concrete wall along the carpool lane, prosecutors said. There were no serious injuries in the incident.
The driver of the sedan called 911 and California Highway Patrol (CHP) officers responded, but when they arrived Rodman had driven away, prosecutors said.
CHP investigators determined Rodman was the SUV driver but when they eventually spoke to him he gave false information about the incident, prosecutors said.
The hit and run charge was later discharged after the court accepted a civil compromise between Rodman and the victim, prosecutors said in a statement. Rodman pleaded guilty to the remaining three misdemeanors on Monday afternoon in an Orange County Court.
The district attorney's office said Rodman was ordered to pay restitution as part of his sentence, but Meyer said the restitution had already been deemed completed.
Rodman, nicknamed "The Worm" during his playing career, is considered one of the best defensive players and rebounders in NBA history.
He was convicted at least twice of driving under the influence, in 2000 and 2004, according to media reports at the time.
Most Popular
Highlights
What's Hot