Houston embraces Yao Ming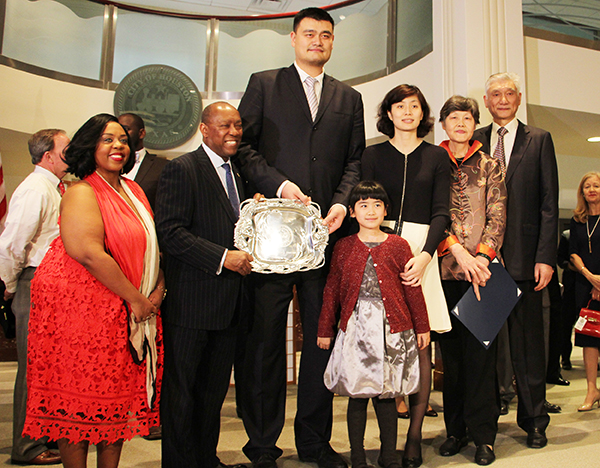 Yao Ming poses with his family and Houston Mayor Sylvester Turner and his daughter Ashley in Houston on Thursday. [Photo by May Zhou/China Daily]
The man who sent the NBA to new heights in China was recognized by the city where he played and by his team, the Houston Rockets, which will retire his jersey on Friday.
On Thursday afternoon, Houston Mayor Sylvester Turner held a special reception in honor of Yao Ming at City Hall.
"It's all such a great honor," Yao said. "If anyone asked me on the very first day in Houston 15 years ago, to have an event like this, I would say there's no way."
Yao was in the city to attend a ceremony at which the Rockets will retire his No. 11 jersey. The ceremony will be held at halftime during the game between the Rockets and the Chicago Bulls on Friday night. It will be broadcast in the US and China.
Yao, an eight-time NBA All-Star, will join fellow Rockets' Hall of Famers Calvin Murphy, Moses Malone, Clyde Drexler and Hakeem Olajuwon in having his jersey hung from the rafters.
Most Popular
Highlights
What's Hot