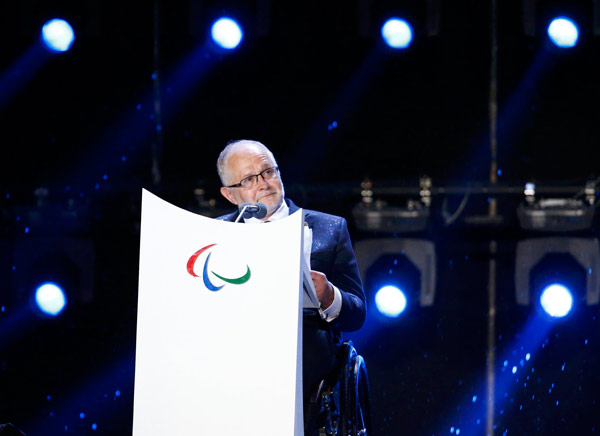 Philip Craven, president of the International Paralympic Committee, at the closing ceremony of Rio 2016 Paralympics in Rio de Janeiro, Brazil, Sept, 18, 2016. [Photo/Agencies]
RIO DE JANEIRO - The president of the International Paralympic Committee (IPC), Philip Craven, was among those to pay tribute to Iranian cyclist Bahman Golbarnezhad during Sunday's Paralympic Games closing ceremony.
Golbarnezhad died after an accident while competing in the C4-5 road race on Saturday.
"Tonight is a celebration of the last 12 days of sport but it's also a very somber occasion following yesterday's extremely tragic events," Craven said during a speech at the Maracana stadium. "The passing of Iranian cyclist Bahman Golbarnezhad has affected us all and left the whole Paralympic movement united in grief.
"Tonight, I would like you to join me in paying our condolences to his family, friends, his teammates and the people of the Islamic Republic of Iran by observing a moment of silence in his memory."
Flags were lowered to half mast at the Paralympic village and Iran took a photo of Golbarnezhad on to the podium after winning their sitting volleyball gold medal on Sunday.
"There is one bitterness and one sweetness," said Masoud Ashrafi, the secretary general of Iran's Paralympic Committee. "Today we are so happy because the sitting volleyball team were able to win the gold medal. And we are going to present this gold medal to the soul of Bahman Golbarnezhad."
It was the first time an athlete has died during competition in the 56-year history of the Paralympic Games. Local authorities have launched an investigation into the crash, according to the IPC.
Craven's comments provided a melancholic moment to an otherwise upbeat three-hour ceremony that dazzled spectators with a mix of musicians, dancers, fireworks and stunning special effects.
In his speech Craven praised Cariocas, as Rio's residents are known, for successfully staging the Paralympics, which enjoyed big crowds despite earlier concerns about slow ticket sales.
"Marvellous Cariocas, you warmly embraced these Games and took the athletes to your hearts," Craven said. "You made the Paralympics your Games, the people's Games, and we will forever cherish our time spent with you."
Rio 2016 organizing committee president, Carlos Nuzman, also gave a ringing endorsement of the host city while offering best wishes to 2020 host Tokyo.
"We can be very proud. We staged Olympic and Paralympic Games that will forever remain in the history of world sport," Nuzman said. "We will build our future inspired by athletes and your generosity. Congratulations, Rio. Congratulations, Brazil. Good luck, Tokyo 2020," he concluded.