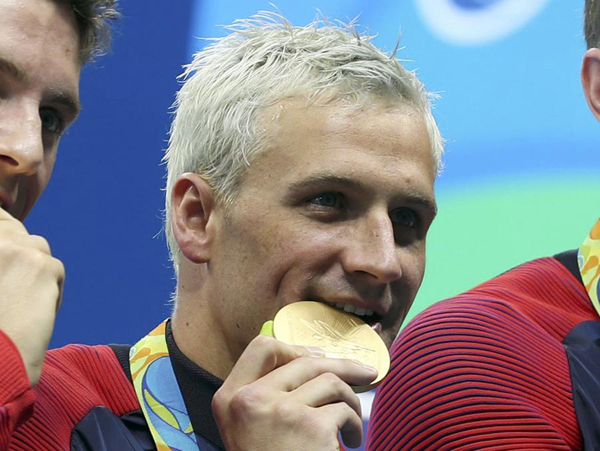 Ryan Lochte with their gold medals after the men's 4x200m freestyle relay final in the Rio 2016 Summer Olympic Games at Olympic Aquatics Stadium. [Photo/Agencies] 
At a news conference Thursday afternoon, Civil Police Chief Fernando Veloso said there was no robbery nor were the swimmers "victims of the crimes they claimed. ... It would be noble and worthy of them to apologize." TMZ live-streamed the event.
For all that, the gold-medal for overkill by a responsible official had already been awarded.
It went to International Olympic Committee spokesman Mario Andrada appeared at the organization's daily press briefing and delivered a pitiful, rambling leniency plea for "Lyin' Ryan."
"They are magnificent athletes. Lochte is one of the best swimmers of all time," Andrada said. "They had fun, they made a mistake, it's part of life, life goes on, let's go."
All this amounts to little more than peering down the rabbit hole and normally, we'd be inclined to take Andrada's advice and let it go.
No one was seriously hurt, even if two security guards at the gas station briefly flashed guns at Lochte and his bros, B-team swimmers Jack Conger, Gunnar Bentz and James Feigen, at the end of a night out partying. And if the reports are correct, whether the $53 the trio handed over was to repair the door or simply a shakedown, it's hardly enough to justify all the hubbub.
But here's what's seriously wrong with the whole thing: Lochte is supposed to be the adult in the group.
He's 32, a three-time Olympian and a veteran of the party circuit (remember reports of him swigging $800-bottle vodka during the 2012 London Games). On the other hand, Bentz is 20, Conger, 21, and Feigen, 26. They're here to swim a leg for the relays in preliminary races so stars like Lochte can seal the deal when medals are on the line.
After a judge ordered all four of the swimmers' passports confiscated, Conger and Bentz were pulled off a plane. Feigen, who is still in Rio, promised to cooperate with authorities.
The swimmers could still be charged with filing a false police report as well as face punishment from USA Swimming. A violation of the team's code of conduct can draw penalties ranging from probation and a fine to suspension and expulsion.
No doubt a suspension or expulsion would get Lochte's attention, since the moment Michael Phelps announced his own retirement, Lochte raced to the first open microphone he could find and announced he was staying. Some surprise.
Think back to in 2013, when some TV executive was so mesmerized by Lochte's smile and his custom-made American flag dental grill that he green-lighted a show. As part of a promotional tour, he turned up on Good Day Philadelphia and stumbled so badly in a light-hearted interview that one of the hosts wound up the segment by saying, "How are they going to put together 13 weeks of programming?"
The answer: They couldn't.