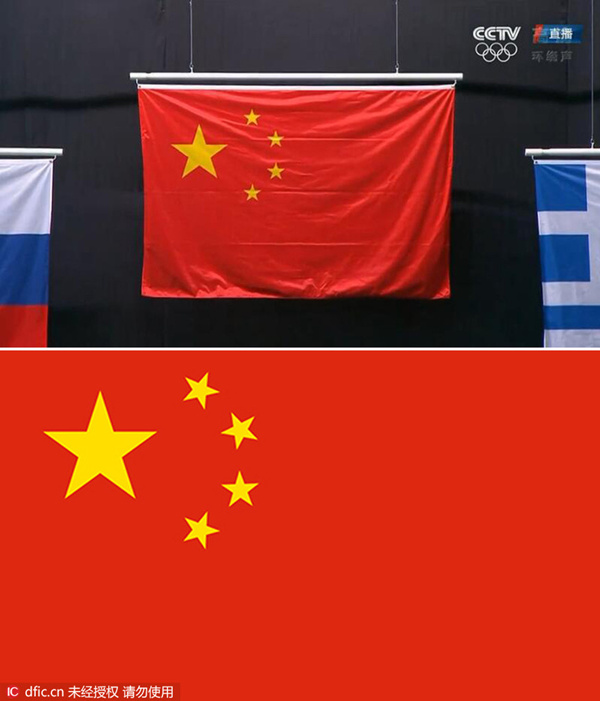 Above: A TV screen show a wrongly designed Chinese national flag is used during the awarding ceremony of women's 10m air pistol in Rio Olympic Games August 7, 2016.
Below:The right Chinese national flag [Photo/IC]
The Rio 2016 organizing committee is making new flags for China after Chinese citizens watching the ceremony on television complained that the stars were incorrectly positioned.
"The flags produced had been approved by the Chinese prior to production. You have to be very familiar with the Chinese flag to notice it (the mistake)," Games spokesman Mario Andrada said.
"Yesterday we managed to go back to (the) company. They are producing a bunch of correct flags to be delivered here shortly. It is a Brazilian company," he said.
The complaints arose after China won medals in shooting and swimming events and its flag was raised as part of the medal ceremonies.
Some Chinese internet users pointed out that the stars on the flags raised were parallel with each other. The correct Chinese flag features one large star, with four smaller stars in a semicircle tilted to point toward the larger one.
The incorrectly designed flags were also protested by the Chinese Olympic delegation.
Song Yang, the Chinese consulate general in Rio, contacted the Rio Olympics Organizing Committee on Monday, demanding that it correct the flags immediately.
The case was later taken up by the Chinese Embassy to Brazil.
The committee tendered an official apology and promised to rectify the error but failed to present the right flag on the following day when China's markswoman Zhang Mengxue claimed the country's first gold in the women's 10m air pistol event.