AFL hopeful of broadcasting its Shanghai match into China: official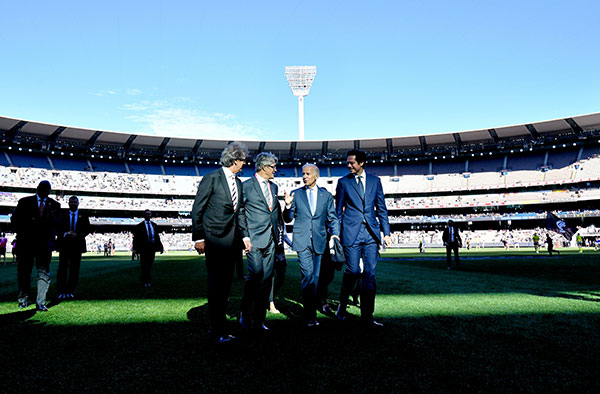 File photo shows US Vice President Joe Biden (C) talks with officials as he walks off the the Melbourne Cricket Ground (MCG) before the start of an Australian Football League (AFL) game in Melbourne, Australia, July 17, 2016. [Photo/Agencies]
CANBERRA - The first official Australian Football League (AFL) match to be played in China will likely be shown on local television, league executives said on Wednesday, with negotiations underway between the league and a number of Chinese broadcasters.
Port Adelaide and Gold Coast are set to play the first ever match for Premiership points in China on May 14, 2017 in Shanghai, and AFL operations executive Travis Auld said the game will most likely be shown locally in China.
"We do expect it to be televised into China but those details haven't been finalized," Auld told AFL.com.au on Wednesday.
"I certainly think it'll be a big deal for the networks there to be able to show a game locally. They've been showing a number of our games, not just Port Adelaide games, games throughout last year.
"We'll also work pretty hard locally to market the game, and introduce a number of locals to our game for the first time and (see) what it's like to watch the game live."
According to the league, the match will be also televised back into Australia by host broadcaster Channel 7, while there has also been significant interest from Aussie "footy" fans who are keen to make the trip up to Shanghai to watch the historic match.
While tickets are yet to go on sale, Auld said the AFL was hopeful of attracting a crowd of around 10,000, made up of "expats, locals, corporates and traveling fans".
"We've had interest from a couple of thousand supporters who are looking to travel over for the game, and there's also within that a significant number of people who are interested in purchasing corporate seats," Auld said.
"I imagine it'll be around the 10,000 mark which we think will be fine, and will provide a really good atmosphere on the day and also a good product for TV."
The Gold Coast Suns will host Port Adelaide at the Jiangwan Sports Centre in Round 8 of the AFL season on Sunday May 14.
Most Popular
Highlights
What's Hot