Chinese football's bittersweet 2016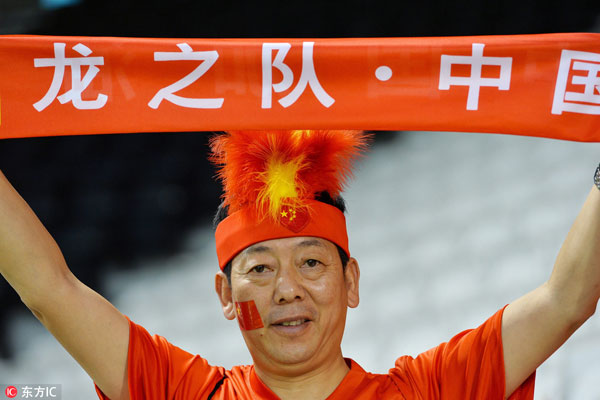 Chinese supporter cheers for their team before the 2018 FIFA World Cup Russia and AFC Asian Cup UAE 2019 Preliminary Joint Qualification soccer match Qatar vs China at the Al Sadd Stadium in Doha, Qatar, October 8, 2015. [Photo/IC]
BEIJING -- Chinese football kicked off this year by throwing down about $300 million during the winter transfer window, and came to an end of the season last weekend with Guangzhou Evergrande completing a domestic league and Cup title double after pipping Jiangsu Suning in the two-legged Chinese Football Association Cup final. A sober assessment of how 2016 went for Chinese football is in order.
The cashed-up Chinese Super League didn't mean that a good season was a foregone conclusion for supporters. After the high of such an exciting slate of transfers, Chinese football fans have had to face a long and hard road.
Chinese football had a satisfying first half in 2016. The Chinese women's football team returned to the Olympic tournament again after 2008, while the men's team advanced to the final Asian qualifying round for the World Cup for the first time in 15 years.
But in the second half, things got complicated.
China's women footballers were defeated by Germany 0-1 in August in their quarterfinal at the Fonte Nova Arena, but also say they have gained much experience and confidence from the Rio Olympics.
"We're very satisfied with what the young team did in the tournament, and we will do something to make the team better for the 2019 FIFA Women's World Cup and 2020 Tokyo Olympics," said team manager Yu Hongchen.
According to the overall reform plan to boost the development of the sport in China, the 'Steel Roses' middle-term goal is to get back to the world's top level. Both Yu and China's head coach Bruno Bini said that period may be about 10 years.
China's hopes to advance to the 2018 FIFA World Cup finals dimmed as they lost 2-0 to Uzbekistan on October 11, collecting only one point from four matches played and standing last save for one in the six-team Group A. China's former coach Gao Hongbo, 50, announced his resignation at the post-match press conference.
Most Popular
Highlights
What's Hot