Australian Open cuts betting advertising in wake of match-fixing scandal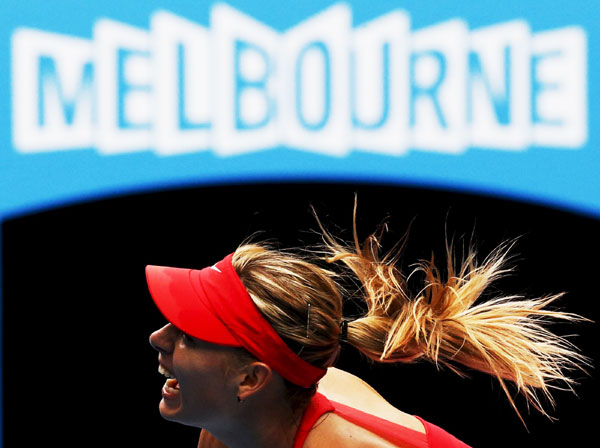 Maria Sharapova of Russia serves to Eugenie Bouchard of Canada during their women's singles quarter-final match at the Australian Open 2015 tennis tournament in Melbourne in this January 27, 2015 file photo. [Photo/Agencies]
MELBOURNE -- The Australian Open has decided to cut controversial court-side advertisements for betting agencies.
The decision comes in the wake of the 2016 Australian Open being heavily criticized for prominently displaying advertising for its betting partner just days after tennis was hit by its biggest ever match-fixing controversy.
Steve Healy, President of Tennis Australia (TA), said the decision to cut the advertisements was made in response to public backlash in 2016 as well as the match-fixing scandal.
Healy said that the advertising agency the tournament uses was on board with the decision despite a possible loss of sponsorship revenue.
"We need to put it in perspective. The arrangements that were struck with (betting company) William Hill before this issue had such a high profile and so we've worked with our partners to address that," Healy said.
Healy said for the first time at the 2017 Australian Open TA would employ two investigative officers to be on site and monitor suspicious betting activity.
"There'll be no matches specifically targeted," Healy told the Australian Broadcasting Corporation (ABC) on Friday.
"It'll just be random matches and from that then we'll just be looking at the data."
He said TA was mostly unconcerned about the prospect of match-fixing at the Australian Open and that most occurrences of the practice came at smaller tournaments.
"Our role is to make sure that all of our Australian players are educated, they understand the risks, the deceptions that take place that might leave them into something unseemly," Healy said.
"We made the decision to not just sit back and wait for the review (into this year's scandals) but to take immediate action."
Healy said even the prize pool for the Australian Open, the largest ever for a Grand Slam tournament, might not be enough to staff off the temptation of match-fixing.
"I think it's not just a question of money," he said.
"People generally will do bad things, because they're bad people. That's the reality. So money is not the only solution."
Most Popular
Highlights
What's Hot