Turan triggers Barca blitz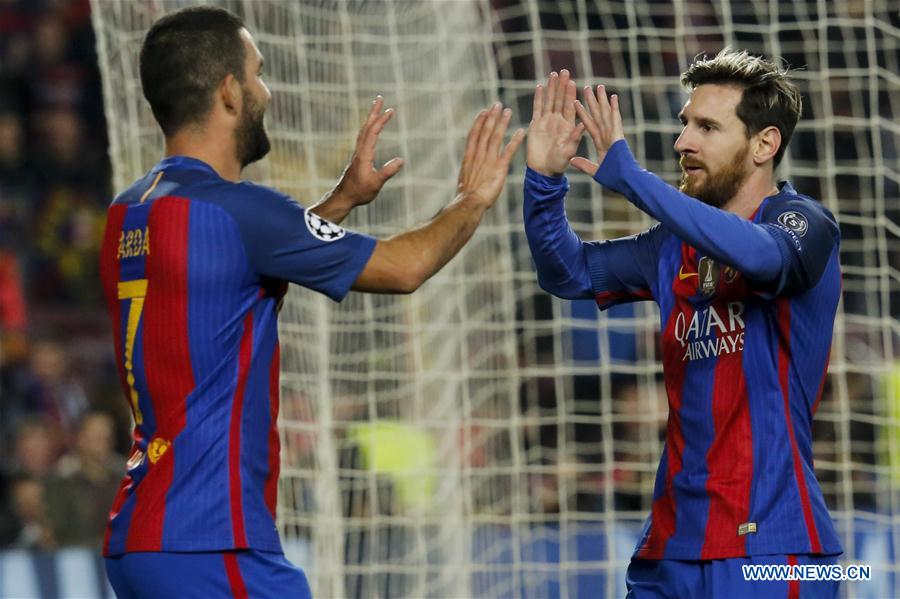 Barcelona's Lionel Messi (R) celebrates after scoring with Arda Turan during the UEFA Champions League match against Borussia Monchengladbach at Camp Nou stadium in Barcelona, Spain, Dec 6, 2016. Barcelona won 4-0.  [Photo/Xinhua]
Arda Turan fired a hat-trick and Lionel Messi notched his 10th Champions League goal of the season as much-changed Barcelona cruised past Borussia Monchengladbach 4-0 at Camp Nou on Tuesday.
Barca had already booked its place in the last 16 as Group C winner, but was looking for a morale-boosting win after three straight stalemates, including the concession of a last-minute equalizer to Real Madrid in a 1-1 draw on Saturday.
Messi continued to cut the gap on Madrid's Cristiano Ronaldo as the Champions League's all-time top scorer when he opened the scoring in the 16th minute.
Turan then struck his first Barca hat-trick in a 17-minute second-half spell as the host took out its frustration on dispirited Monchengladbach.
"I have to congratulate the players because today was a game in which we had little to win and things could have gone very differently," Barca boss Luis Enrique told BeIN Sports Spain.
"It is perhaps the most precise we have been all season and it came in a game where we didn't have a lot of space to play in."
While Barca can look forward to the last 16 for a 13th straight season, third place in the group behind Manchester City ensures Gladbach drops into the Europa League.
"We had too much respect for them and didn't play with enough courage," said Gladbach boss Andre Schubert.
Enrique retained only Messi, Andre Gomes and Javier Mascherano from the 11 that started El Clasico on Saturday.
And Messi's insatiable scoring appetite was rewarded when he exchanged passes with Turan to sweep home his 93rd Champions League tally. The Argentine is now just three behind Ronaldo in the race to be the first man to a 100.