Djokovic survives Thiem scare at ATP World Tour Finals
LONDON - Five-time champion Novak Djokovic fought back from one set down to beat eighth seed and first-time qualifier Dominic Thiem of Austria 6-7(10), 6-0, 6-2 in the opening match of the ATP World Tour Finals at London's O2 Arena on Sunday.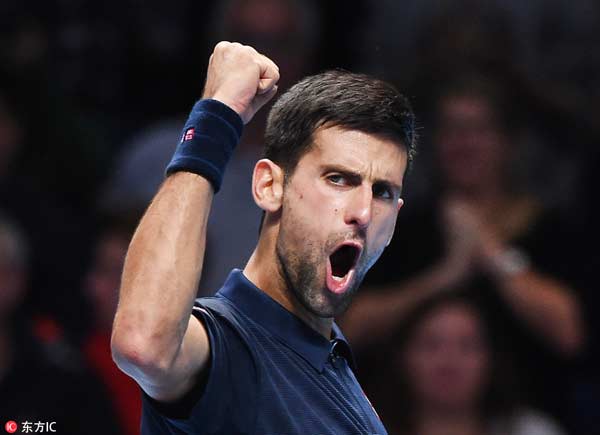 Serbia's Novak Djokovic celebrates after defeating Austria's Dominic Thiem in their singles group match of the ATP World Tour Finals tennis tournament at the O2 Arena in London, Britain, 13 November 2016.  [Photo/Xinhua]
Djokovic, who fell to the second place in the world rankings last week, is bidding to win a record fifth consecutive title at the year-end finale. He will also regain the top place from 29-year-old Andy Murray if he wins one more group match and regains the title.
"Even though I lost the first set, I thought I didn't do too many things wrong. It was just the very high quality of his game that prevailed in the first set," said Djokovic. "I started swinging more freely in the second set. He started making more errors, which I used. I was on top of his second serves, putting a lot of pressure. I thought I played very well in the second set especially, but the third as well."
Neither Djokovic nor Thiem, 23, was able to break and the first set went to a tie-break. Thiem jumped to a 6-3 lead, but then struck two double faults. Djokovic managed to level the score at 7-7 and 10-10.
Thiem, the youngest player in the eight-man field, finally sealed the set by 12-10 after 76 minutes.
"When I had a great comeback saving six, seven set points, then I didn't manage to win that first set, of course you're frustrated," said Djokovic. "On the other hand, I think I managed to compose myself and really gather all my attention and concentration to what was coming up after that."
Djokovic dominated the second and needed only 22 minutes to win 6-0. The Serb went on to wrap up the match by taking the third set 6-2.
In the other match, Milos Raonic of Canada recorded his first victory at the ATP World Tour Finals by beating Gael Monfils of France 6-3, 6-4.
Raonic, who had gone 0-2 on his season finale debut two years ago, is enjoying a career-best year with a 51-15 match record and a Wimbledon runner-up finish.
Djokovic will next face Raonic while Monfils takes on Thiem on Monday.
Most Popular
Highlights
What's Hot