Winter sports here to stay, expansion plans show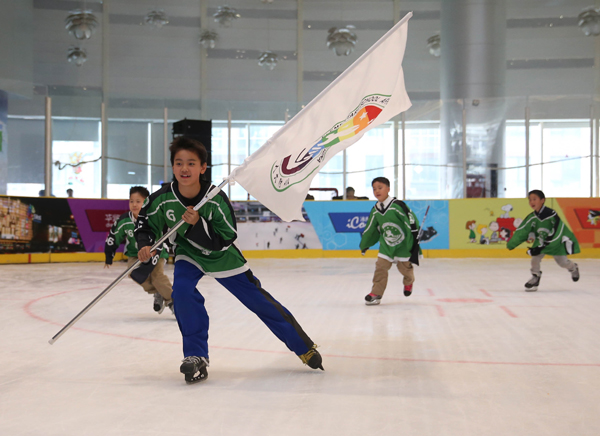 Photo taken at the Beijing Primary and Secondary School Hockey League on April 24, 2016. [Photo/Xinhua]
As China unveils ambitious plans to boost the winter sports industry with preparations for the 2022 Beijing Winter Olympics ramping up, observers are calling for solid planning and training to ensure even implementation and sustainability long after the Games are over.
The country is planning to have a total of 650 skating rinks and 800 ski resorts by 2022, laying the foundation for 300 million people to participate in winter sports and related activities.
They are expected to contribute 1 trillion yuan ($148 billion) to the winter sports industry including spending at venues, equipment production and training fees by 2025.
The increase in facilities and participants would be massive: China currently has over 200 skating rinks and 500 ski resorts, and about 30 million people participate in winter sports and related entertainment, according to the State General Administration of Sport, the country's top sports body.
With six years to go before the Games, the administration on Wednesday issued national plans for winter sports development and infrastructure construction. The plans also involve seven other ministries, including the Education Ministry and the National Development and Reform Commission.
"To accelerate the construction of winter sports facilities, not only for elite competitions but for mass participation, has been a pressing issue for the preparation of the Beijing 2022 Winter Olympics," said Gao Zhidan, vice-minister of sport.
Winter sports venue developers will be offered reasonable and flexible policies in tax reduction and land acquisition, according to Wang Weidong, director of the sports administration's economics department. Wang said the administration will work with the Finance Ministry and the Ministry of Land and Resources to finalize such measures.
Beijing and co-host Zhangjiakou in Hebei province won the bid in July to host the 2022 Winter Olympics, citing the potential for involving 300 million people in skiing, skating and other sports. The Games will be held at the three venue clusters in downtown Beijing, the capital's northwest Yanqing county, and Chongli county of Zhangjiakou respectively.
Most Popular
Highlights
What's Hot