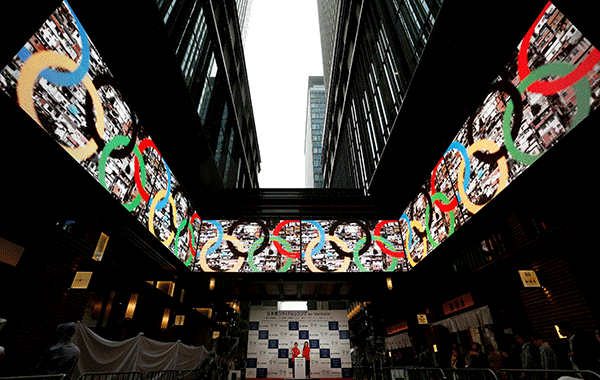 Japan's Olympic wrestler Saori Yoshida (bottom L) and Para-triathlon athlete Mami Tani pose for photos during an opening celemony for the Tokyo 2020 Olympics and Paralympics promotional event "Go for 2020 Street" in Tokyo's Nihonbashi shopping and business district, Japan, September 20, 2016.[Photo/Agencies]
A Tokyo panel on Thursday urged changes to three venues for the 2020 Olympics in the face of ballooning costs but organizers say such adjustments may prove difficult to instigate in time for the Games.
Tokyo touted access to a $4.5 billion war chest when it beat Madrid and Istanbul in its successful 2013 bid for the Summer Games but recently elected governor Yuriko Koike campaigned on reining in ballooning costs and ordered a review of expenses.
The proposed changes, which could include moving rowing and canoeing some 400 km (250 miles) from Tokyo, would require the approval of the International Olympic Committee (IOC) and each sport's international federation.
They are the latest in a series of embarrassing setbacks and broken promises for organizers, who won the bid largely on Japan's reputation for efficiency.
Tokyo's bid proposal, for example, said some 85 percent of venues would be within 8 km (5 miles) of the Olympic Village in Central Tokyo.
According to a preliminary report, released on the same day as an executive board meeting of the Tokyo 2020 organizing committee, overall costs could surge to more than four times original estimates of 734 billion yen ($7.24 billion).
"Given the current situation, costs could run over 3 trillion yen ($29 billion)," the panel wrote in its report.
When it won the Games, Tokyo said they would bring in economic benefits of 3 trillion yen and create 150,000 jobs.
To cut back, the panel proposed reconsidering the construction of three new venues -- for volleyball, swimming and rowing/canoeing -- in favor of using existing venues.