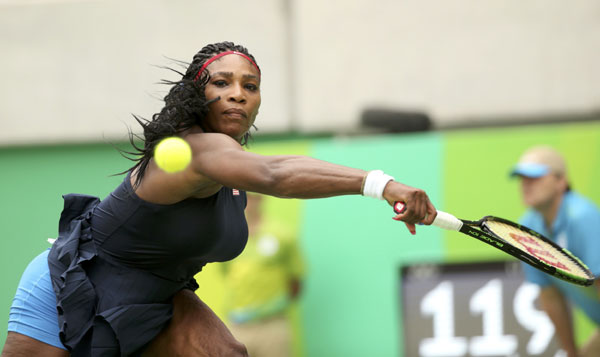 Serena Williams (USA) of USA in action against Daria Gavrilova (AUS) of Australia during the women's singles first round at 2016 Rio Olympics. [Photo/Agencies]
Fifteen of the 558 athletes in the US delegation at the Rio Olympics - or slightly less than 3 percent - had therapeutic-use exemptions in force during the games.
The exemptions, known as TUEs, came under increased scrutiny last week after Russian hackers broke into the database of the World Anti-Doping Agency and posted confidential medical information online from some athletes.
TUEs let athletes use otherwise-banned substances to treat long-standing medical conditions such as attention deficit disorder and asthma. Proponents argue those exemptions only level the playing field; critics say they can give competitors an edge.
The hackers largely targeted female US Olympians, among them tennis stars Serena and Venus Williams and gold medal-winning gymnast Simone Biles. All three, as well as several other prominent athletes whose medical records were posted, said the data strongly supported their use of a TUE.
"I am one of the strongest supporters of maintaining the highest level of integrity in competitive sport and I have been highly disciplined in following the guidelines," Venus Williams said in a statement.
How the US numbers compare with those of other Olympic delegations is difficult to say - let alone how they compare with the number of TUEs granted by the NFL, NBA, NHL and MLB because of differing standards and reporting practices.
Olympic athletes can request - and receive - a TUE from either their international sports federation or a national anti-doping agency. All exemptions are forwarded to WADA, which does not grant TUEs but can appeal them, and then provided to the International Olympic Committee ahead of the games.
Both WADA and the IOC declined several requests from The Associated Press for those numbers before, during and after the Olympics.
The US delegation total was provided by the US Anti-Doping Agency. According to the agency's 2015 annual report, 136 of the 2,500 or so athletes in its elite Olympic programs - about 5 percent - were granted TUEs in 2015.
Associated Press