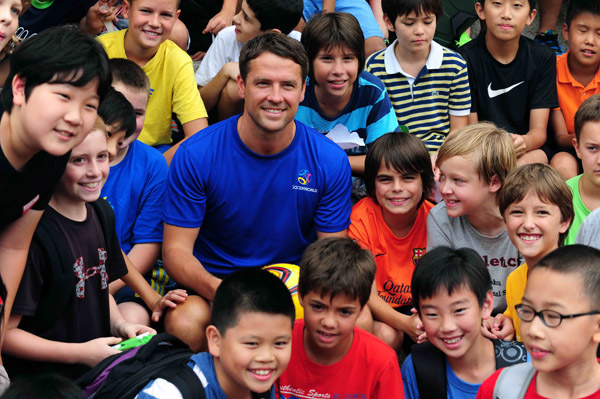 English soccer star Michael Owen takes a group photo with young fans at Shekou International School in Shenzhen, Guangdong province, on June 13, 2013. [Photo by Wu Jun/Asianewsphoto]
As part of the endeavor, a series of high-profile Chinese investments have been announced recently in European football clubs, including both Italian Serie A clubs AC Milan and Inter Milan, along with English soccer clubs West Bromwich Albion, Aston Villa and Wolverhampton Wanderers.
Mark Dreyer, a Beijing-based sports writer who edits the China Sports Insider website, says whether this initiative will contribute to China's ambition to become a world football superpower is yet to be seen, but the important thing is that it is focused on the right areas, grassroots and youth soccer.
He believes too much money has been spent on either importing foreign players into the Chinese Super League or on investing in and acquiring overseas clubs, which might not necessarily benefit Chinese football.
"The only way that China can achieve its long-term goal is to start coaching players as young as five on a large enough scale, ensuring that they get the right kind of coaching for a generation. It's a massive task, but simply throwing money at the problem won't solve it - or speed up the process," he adds.
Owen and Wright's new venture is not the first of its kind in China. Brazilian soccer star Ronaldo who helped Brazil win two World Cups before retiring in 2011, last year announced plans to open branches of his football academy in Beijing, Shanghai and Mianyang in western Sichuan province.
Another similar football academy was opened in China in 2014 by Portuguese football legend Luis Figo to help train football players from 3 to 14 years old and cultivate their interest in football.
To contact the reporter: wangmingjie@mail.chinadailyuk.com