World's fastest man relies on family for love and laughter
How does Usain Bolt's mom help the world's fastest man keep his cool?
"We say things that will make him laugh," said Jennifer Bolt as her superstar son readies for what just might be his last Olympics.
At nearly 30, Bolt has six Olympic gold medals from the Beijing and London Games.
Though he withdrew from Jamaica's national meet on July 1 with a slight tear in his left hamstring, the world record holder in the 100 - and 200-meter sprints proved his fitness in the 200 at the London Anniversary Games on July 22, after which he declared himself good to go for Rio.
A few days before the London event, his mom visited New York and said she wasn't worried, having long ago learned that calming her own nerves was the best way to soothe Usain.
"I know he's going to get well and everything will be OK," said soft-spoken Jennifer Bolt, who has been cheering him since her son's speed first surfaced in his early teens.
"I tell him to just stay focused, remember God, remember to pray and read your Bible, remember how much we love him," she said.
Usain has come back from injuries before, including left hamstring problems.
When it happened at what was supposed to be his first Olympics, Athens 2004, he didn't make it past the first round. He was just 17.
"It was a bit scary because we didn't really understand and know what it was," Jennifer said. "He wanted so much to be at the Olympics and he just couldn't make it."
Jennifer and Usain's dad, Wellesley, live in the same village along Jamaica's northern coast where they ran a general store during his youth.
They've been helping him, Jennifer said, "not get nervous" since 2002, when at age 15 he debuted at the World Junior Championships in Kingston.
He won the 200-meter - and that was the beginning for the 6-foot-5 sprinter, who had never been away from his parents or his modest village of Sherwood Content in Trelawny Parish before he left for Kingston to train professionally.
At 12, when he earned a scholarship to attend a high school known for turning out strong athletes, it all clicked for Jennifer. Bolt loved cricket and soccer growing up, but he has said he settled on track because he was good at it.
"He could not keep still when he was a child," said Jennifer. "Even in the bed, you could see him tossing. When he started high school, that's when we saw that he's really competitive."
Over the years, Jennifer said, she has realized her best approach is to remain strong when her son falters.
"I've learned to cope with it. I cannot feel down when I have to support him. I just pray and hope that everything will be good," she said.
"I know that he still depends on his mother."
Just as he did as a teen.
"I can remember in 2002, the world championships. At the time he was 15 and before the games he didn't want to go. He cried, and I had to try to comfort him, encourage him to go out and do his best because he didn't feel that he could have done it," she said. "I was really, really nervous. My legs were shaking and my heart beat fast."
Then she listened to the crowd.
"The crowd was behind him. From then I didn't feel that nervous," she said.
The scene plays out a bit in The Boy Who Learned to Fly, a new short animated film produced by Gatorade and based on Usain's life. The advice her animated self gives to the jittery teen before the 2002 junior worlds still resonates: "You can always go fast when you keep it light."
Norman Peart, who handles finances for Usain, has been a mentor since the sprinter was 15. Peart accompanied him to Kingston when Usain first left home to train. Usain lived with him, and later his wife and kids, for three years.
"We say you have to have crocodile skin to handle the pressure, and he does," Peart said.
So how do the two think the ebullient Usain's retirement, maybe in the next year or so, will play out?
Jennifer thinks he'd make a great TV analyst.
"He'd put a little vibe into the sports on television," she laughed of her son's reputation for his trademark "lightning bolt," his love of flashing huge smiles and his party spirit.
Peart thinks the same of Usain's future.
"I can see him as an analyst. And he'll do stuff with Puma for years to come for sure," he said of one of Usain's biggest endorsement deals.
"But before that, the first thing he'll do is take a little break. He'd love some time for himself."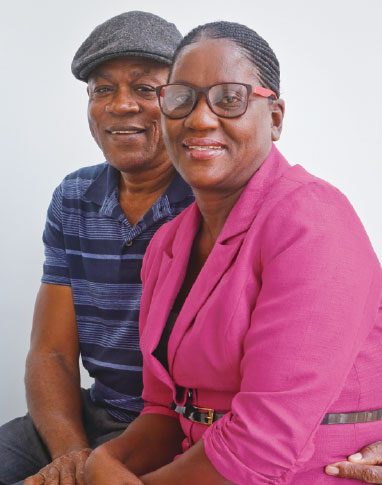 Wellesley and Jennifer Bolt, parents of Jamaican Olympic gold medalist and world record sprinter Usain Bolt, pose during a July 19 interview in New York. Bebeto Matthews / Ap
(China Daily 07/29/2016 page24)