MOSCOW - The competitions of the 2016 Rio Olympic Games will be less spectacular due to the absence of some Russian athletes unjustly banned from participating in them, Russian President Vladimir Putin said Wednesday.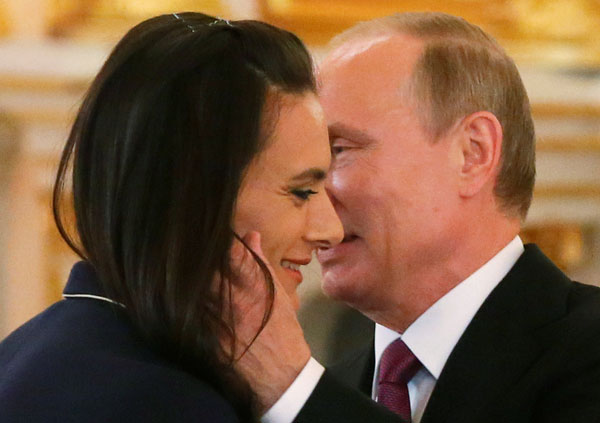 Russian President Vladimir Putin greets track-and-field athlete Yelena Isinbayeva during a personal send-off for members of the Russian Olympic team at the Kremlin in Moscow, Russia, July 27, 2016. [Photo/Agencies]
"It is clear that the absence of Russian athletes, leaders in many disciplines, will significantly reduce the intensity of the struggle, and hence the spectacularity of the upcoming competition," Putin said at a meeting with Russian athletes.

Putin met in the Kremlin with the national team, which will leave on Thursday for Rio de Janeiro to take part in the August 5-21 games and also those athletes, who were not allowed to participate.

He criticized the decision of the International Association of Athletic Federations (IAAF), which excluded from the list of participants not only athletes caught using doping, but also "clean" athletes.

Putin said many Russian athletes suffered unfairly, as no specific charges were put forward against them, adding that "a blow has been delivered to the entire world sport and the Olympic Games."

The Russian leader, however, praised the International Olympic Committee (IOC), which, "in spite of the huge open pressure on it,"
abstained from splitting the Olympic movement and granted international sports federations the right to admit athletes to the games.

He said Russia would do everything possible to "defend the honor" of its track and field team, unjustly deprived of participating in the Olympic Games, and pledged to establish an effective system to counter doping in sport.