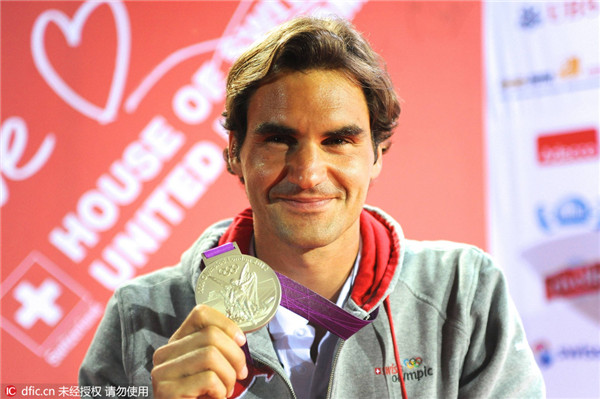 File photo shows Swiss tennis player Roger Federer winning a silver medal in the 2012 London Olympic Game. [Photo/IC] 
RIO DE JANEIR - Switzerland's 17-time grand slam winner Roger Federer has decided to call an end to the current season as he announced on Tuesday that he would miss the rest of the 2016 season including the upcoming Olympic Games to be held here next month.
"I'm extremely disappointed to announce that I will not be able to represent Switzerland at the Olympic Games in Rio and that I will also miss the remainder of the season," said the 34-year-old in a Facebook post.
"Considering all options after consulting with my doctors and my team, I have made the very difficult decision to call an end to my 2016 season as I need more extensive rehabilitation following my knee surgery earlier this year."
Federer received a surgery to his left knee in February after being ousted in the semifinals in Australian Open. Although he returned to compete in the Monte Carlo Masters in April, the Swiss was forced to withdraw from French Open with a back problem in May.
"The doctors advised that if I want to play on the ATP World Tour injury free for another few years, as I intend to do, I must give both my knee and body the proper time to fully recover," said Federer who reached the Wimbledon semi-final earlier this month but required treatment on his knee before being defeated in the semifinals by Milos Raonic.
"It is tough to miss the rest of the year. However, the silver lining is that this experience has made me realize how lucky I have been throughout my career with very few injuries," he said.
"I am as motivated as ever and plan to put all my energy towards coming back strong, healthy and in shape to play attacking tennis in 2017," said Federer, who will turn 35 next month.