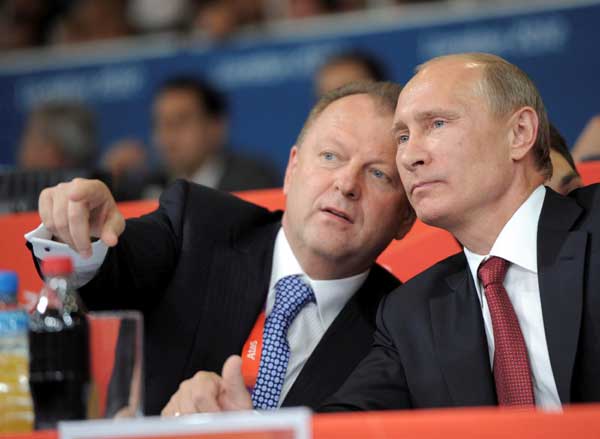 Russian President Vladimir Putin (R) and president of the International Judo Federation (IJF) Marius Vizer chat as they watch the final of the judo competition at the London 2012 Olympic Games, Britain, August 2, 2012. [Photo/Agencies]
MOSCOW/BELGRADE - The International Olympic Committee's decision to let individual sport federations decide whether to ban Russians from the Rio games over doping has put Moscow's links to the governing bodies under scrutiny.
In the latest announcement by a sport governing body, the head of the International Judo Federation said on Tuesday it would allow the Russian squad to compete.
The federation lists Russian President Vladimir Putin, a judo blackbelt, as its honorary president. One of Putin's closest personal friends, his judo sparring partner Arkady Rotenberg, sits on the federation's executive board and is head of a charity that has helped fund it.
The federation's president, Romanian-born former competitor and coach Marius Vizer, denied there was a conflict of interest and said neither Putin's nor Rotenberg's roles played any part in its decision to allow Russians to compete.
The 11 Russian competitors who had qualified for the Olympics had been tested regularly outside Russia since September last year and those tests had not revealed any evidence of doping, Vizer said.
"The main characteristic, and the main value of judo is honour. Honour, dignity and respect. And we don't only say that, we mean that as well."
But critics say governing bodies will have to do more to demonstrate that they can make their decisions independent of influence of Russian officials and businessmen who frequently hold leadership positions across international sport.
"I think that each of them should be asked: 'How do you deal with conflicts, how to assure the rest of the world and especially athletes from non-Russian countries that you will make, and are making, decisions in an impartial way?'" said Joseph de Pencier, chief executive of the 59-member Institute of National Anti-Doping Organisations.