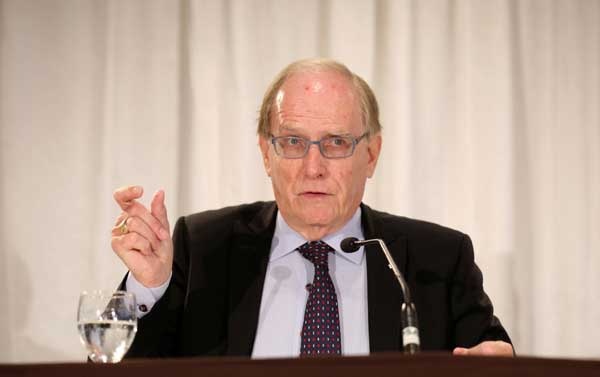 Richard McLaren, who was appointed by the World Anti-Doping Agency (WADA) to head an independent investigative team, presents his report in Toronto, Ontario, Canada July 18, 2016. [Photo/Agencies]
TORONTO - With the Rio Olympics less than three weeks away, the IOC on Monday promised "the toughest sanctions available" after a report found Moscow had concealed hundreds of positive doping tests in many sports ahead of the Sochi winter Games.
The International Olympic Committee (IOC) did not spell out whether it would heed growing calls for Olympic bans already imposed on Russia's track and field athletes and weightlifters to be extended to all its competitors in Rio.
However, IOC President Thomas Bach said the independent World Anti-Doping Agency (WADA) investigation had revealed "a shocking and unprecedented attack on the integrity of sport and on the Olympic Games.
The IOC Executive Board is to hold a telephone conference on Tuesday to take its first decisions, which may include provisional measures and sanctions with regard to the Rio Olympics.
"Therefore, the IOC will not hesitate to take the toughest sanctions available against any individual or organisation implicated."
WADA itself explicitly urged the IOC to consider banning Russia from the Rio Olympics altogether.
Russian President Vladimir Putin, who staked his reputation on the Sochi Games, the costliest in history, said the WADA-backed report was the result of political interference and that the Olympic movement could now split.
The report confirmed allegations made by Grigory Rodchenkov, former head of the Moscow Anti-Doping Laboratory.
He told the New York Times two months ago that dozens of Russians had used performance-enhancing drugs in Sochi with the support not only of national sports authorities but even the domestic intelligence service, the FSB.
Monday's report said Russia, a traditional sporting superpower, had been stung into action by its performance at the 2010 Vancouver Winter Olympics, where it finished 11th, with only three gold medals.
"The surprise result of the Sochi investigation was the revelation of the extent of State oversight and directed control of the Moscow Laboratory in processing and covering up urine samples of Russian athletes from virtually all sports before and after the Sochi Games," said the report, unveiled in Toronto.