Czech tennis stars, world No 8 Tomas Berdych and No 16 Karolina Pliskova, on Saturday joined the growing list of players pulling out of the Rio de Janeiro Olympics due to concerns over the Zika virus.
Their decision came just a day after top 10 stars Milos Raonic of Canada and Simona Halep of Romania withdrew over similar health fears.
"I am very sorry to announce that I will not take part in this year's Summer Olympic Games in Rio de Janeiro," Berdych, the 30-year-old Wimbledon semifinalist, said on Twitter.
"It is because of the Zika virus spread in the country of the Olympics.
"As I have started a family recently, to limit health risks is my utmost priority."
Berdych, who married model Ester Satorova last year, had also pulled out of the Czech Republic's Davis Cup tie with France, in which the Czechs are trailing 2-1 after Saturday's rubbers.
The 24-year-old Pliskova told the Czech News Agency she was pulling out for the same reason as Berdych.
"I share the concerns about the possible effects of catching the Zika virus," she said.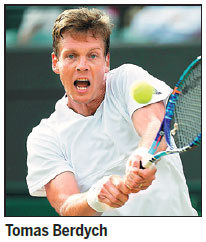 Their decision will not please Radek Stepanek, who was due to form a doubles pair with time-tested Davis Cup teammate Berdych in Rio, and Lucie Safarova, snubbed by Pliskova, who might still team up with Barbora Strycova for doubles.
Berdych and Pliskova follow a host of other tennis stars who are skipping Rio over the Zika scare.
On Friday, Wimbledon runner-up and world No 7 Raonic, as well as world No 5 Halep, the 2014 French Open runner-up, said they would not make the trip to Rio.
Raonic, the first Canadian to reach a Grand Slam final, which he lost to Andy Murray at Wimbledon the previous week, said he made the decision "with a heavy heart".
John Isner of the United States, Austria's Dominic Thiem, Australian duo Bernard Tomic and Nick Kyrgios as well as Spanish veteran Feliciano Lopez have all opted, for various reasons, not to take part in the Olympics.
Italy's former French Open champion Francesca Schiavone has turned down the opportunity while former world No 1s Maria Sharapova and Victoria Azarenka will also be missing.
Sharapova is serving a doping suspension while Azarenka announced last Friday that she is pregnant.
Eccentric Latvian player Ernests Gulbis described the Rio event as "tennis tourism" because the Olympics does not offer prize money or ranking points.
The International Tennis Federation (ITF) moved on Saturday to reassure players and fans over the threat posed by Zika at the Games, which open on Aug 5.
"While we understand and respect the concerns over the Zika virus, the IOC has assured us that all precautions will be taken to limit the risk to athletes, officials and fans," ITF president David Haggerty said.
"We also accept the view of the World Health Organization that there is no reason at this time to postpone or cancel the Rio 2016 Olympic Games."
Fears over Zika have already seen the image of the men's golf tournament in Rio badly tarnished with the sport's top four players - Jason Day, Jordan Spieth, Rory McIlroy and Dustin Johnson - all choosing not to play.
(China Daily 07/18/2016 page24)