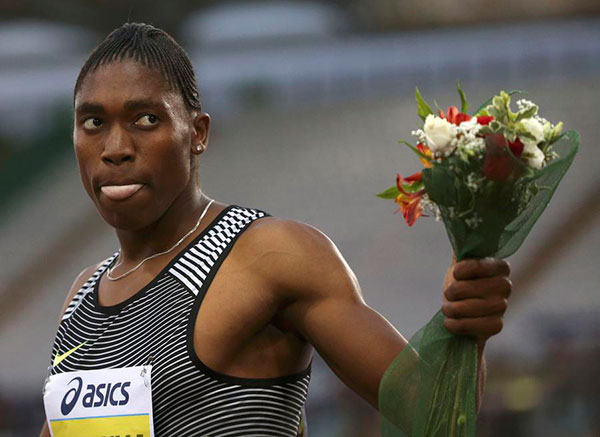 South Africa's Caster Semenya has run the fastest 800m times in the world this year, posting 1:56.64 in both Rome and Rabat. AFP
South Africa's Caster Semenya is back and vowing to win an Olympic gold medal that could reignite the complex biological and ethical gender storm that once engulfed her life.
The runner, who was at the center of a bitter dispute over gender testing seven years ago, is favored to win the women's 800 meters in Rio next month.
Semenya shot to international stardom in 2009 when she won the 800 at the World Championships in Berlin, but her victory triggered a storm of controversy when rivals questioned her gender.
She was forced to undergo medical tests and barred from the track for nearly a year, before returning to win silver at the 2011 World Championships and 2012 London Olympics.
Her career appeared to be sharp decline, however, when she failed to qualify for the world championship final last year.
But now Semenya, 25, is in the best shape of her life, and confidently brushing off past track disputes.
"I don't have time for that," she said when asked about the gender issue at the African Athletics Championships in Durban last month.
"I am an athlete and I focus more on the issues that concern me: training, performing, eating, sleeping. So that thing - you know, it's not part of me."
Semenya's full health records have never been made public, but her case triggered a debate in sport over hyperandrogenism, a condition involving overproduction of male sex hormones.
Last year, regulations were suspended that required women athletes to take testosterone-lowering medication if their levels were above a legal mark.
The ruling ended much of the uncertainty over Semenya's right to run, even if some of her competitors still feel she holds an unfair natural advantage.
Semenya has put in some startling times in recent months. She scored a gold hat-trick at the African championships, winning the 1,500m and 800m titles and anchoring the 4x400m relay team to first place.
In April she became the first person to take triple gold in the 400m, 800m and 1,500m races - all in a single day at the South African national championships in Stellenbosch.
Semenya has also run the fastest 800m times in the world this year, posting 1 min 56.64 sec twice, in Rome and Rabat.
"She's a clear favorite for an Olympic gold medal," said Hezekiel Sepeng of Athletics South Africa.
Semenya said she drew inspiration from Nelson Mandela, who stood by her during the 2009 scandal when she endured what she described as "invasive scrutiny of the most intimate and private details of my being."
The test results were never released, but speculation was fueled by unconfirmed leaks to the press.
Ahead of the Olympics, IAAF president Sebastian Coe has already rallied to Semenya's defense.
"I don't like to see any athlete in any discipline under sensitive situations being demonized; we are talking about human beings here," Coe said last month.
Semenya, a 5-foot-8 sports science student at North-West University in Potchefstroom, is understandably wary of public attention but can open up to friends, said Sepeng.
"She is talkative and feels more free when she is among people she trusts," he said. "If she does not like something she will tell you straight."
Born in the poor northern village of Ga-Masehlong, Semenya married her long-time partner Violet Raseboya in December last year.
"It feels good to be back on track. I've been through a lot," she told the Sunday Times in a rare interview in April.
"Now I'm back with a bang. My main target is to go to Rio and win a gold medal."