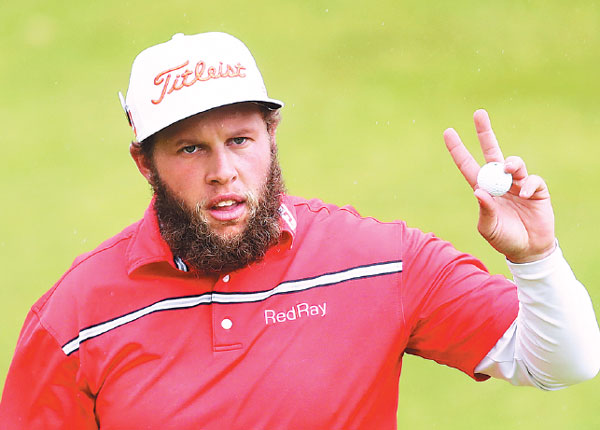 England's Andrew Johnston waves to the gallery after draining his putt on he 15th green during Saturday's third round of the British Open in Troon, Scotland. Johnston finished the round seven strokes behind leader Henrik Stenson and six behind Phil Mickelson. Peter Morrison / AP
England's 'everyman' earning fans for combining talent with unique style
Where's the Beef at the British Open?
Right there on the leaderboard.
Andrew Johnston, a burly, bearded Englishman who answers to 'Beef,' has become the fan favorite at Royal Troon with his brilliant shots and jovial demeanor over the first three rounds.
This is a guy everyone seems to relate to.
And he sends the love right back.
"I'm no different than anyone else," Johnston said.
"That's how I see it. I'll talk and chat to anyone. It really doesn't bother me. I like meeting new people and I don't care where they're from and who they are - if they're nice, I get on well with them and I'm going to make friends."
The 27-year-old from the north of London has made plenty of friends along the Scottish coastline, literally bouncing around the course to the cascading chants of "Beeeeeeef!"
When a shot goes his way, he breaks into a huge grin. When a putt drops into the cup, his head bounces up and down in unison with the roaring fans.
With a paunch that hangs noticeably over his beltline - OK, the guy likes to eat - he comes across as just one of the crowd.
"At the end of the day I'm just a normal guy who happens to play golf," he said.
He's playing it well at Royal Troon, as one of only five players to break par all three days.
Johnston shot a 1-under 70 on Saturday that left him at 5-under 208 overall, seven shots behind leader Henrik Stenson but still the most noteworthy performance of his fledgling career.
It wasn't that long ago that Johnston was wondering whether he could really make a living as a golfer.
Toward the end of 2013, coming off a shoulder injury and with a dwindling bank account, he managed to get into a tournament in South Africa, finished high enough to earn a decent paycheck, and found the motivation to keep going.
"I was sort of wondering, 'What am I going to do for Christmas about presents and stuff like that?'" he recalled. "I didn't have much at all."
Six years after turning pro, Johnston finally claimed a full-time spot on the European Tour in 2015.
This year, he picked up his first win at the Spanish Open. He also made his first trip to America, playing in both the US Open and the Bridgestone at Firestone Country Club.
During the latter, he showed off some of the personality that has already made him a fan favorite on this side of the Atlantic.
While filming a dinner segment for the Golf Channel, he took on the challenge of downing a 32-ounce steak.
"I would have never picked that," Johnston said.
"The waitress lied to me. She was like, 'It's that big'" - holding his hands about 6 inches apart. "But then it comes out and it's massive. And I turned around and I said, 'You liar, you liar.' And she went, 'What?' And I said, 'You said it's this big.' And she said, 'My husband can eat it.' And I went, 'Challenge accepted.'"
In a matter of minutes, that huge of piece of meat was in Johnston's belly.
Johnston admits he could lose a bit of weight. When a reporter bluntly asked how much he weighed, the golfer replied: "I have no idea. You want to pick me up?" He finally conceded that he tipped the scale at around 224 pounds.
"I need to start shedding a little," Johnston said. "I'm heavier than I should be."
But he's not going to get too worked up about a few extra pounds. In fact, he's having fun with it.
During an interview after Friday's round, Johnston joked he was going to have a Caesar salad for dinner (he actually had pizza, in case you were wondering).
During the first few holes of the third round, a young fan kept screaming at him, "Caesar salad! Caesar salad!"
Johnston didn't mind a bit.
His girth and that distinctive nickname - which he got when he was 12 because his friends thought his curly hair looked like a side of beef - are a big part of who he is.
"I like his swagger," said American golfer Tony Finau, another of the unlikely contenders at Royal Troon.
"He's pretty cool. He's got that big beard, and he plays it well."
Ahh, the beard.
Johnston has been growing it for about nine months, and these days he looks more like a lumberjack than a staid ol' golfer.
He's not sure how much longer he can hold out, though, since his girlfriend is getting a bit tired of all that hair. Then again, it's also become part of who he is.
"I desperately need a haircut and a beard shape-up after this week," he said. "I just haven't had time."
He'll have to wait until after Sunday.
He's got another appointment in the next-to-last group at the British Open.
Rio boss blames withdrawals on absence of prize money
The head of the Rio de Janeiro Olympics says the world's top four male golfers have withdrawn from the Games because there is no money to be won - not because of the Zika virus.
"They tried to blame Zika, but the media have shown they are not coming because there's no prize money," Rio organizing committee president Carlos Nuzman said on Saturday.
The Games open on Aug 5.
Jordan Spieth withdrew from the Olympics last week, citing Zika. He joined Jason Day, Dustin Johnson and Rory McIlroy in saying Zika was the main reason for skipping the first Olympic golf tournament in 112 years.
The absence of the world's top four players is seen as a setback for the sport's future in the Games after IOC President Thomas Bach said golf's continuation as an Olympic sport might rest on its ability to get top players to show up.
Golf is guaranteed a spot in the 2020 Tokyo Olympics, but could be vulnerable after that.
"Zika is much worse in Florida than in Brazil, and golfers are playing in Florida," Nuzman said.
Some male golfers have also complained that Olympic golf has been wedged into an already crowded tour schedule. Security concerns, severe water pollution and sluggish ticket sales are other problems plaguing the Rio Games.