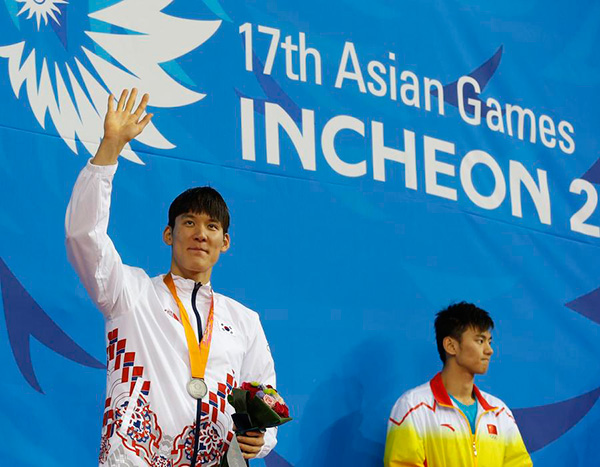 Silver medallist Park Tae-hwan (L) of South Korea gestures on the podium at an award ceremony at the Munhak Park Tae-hwan Aquatics Center during the 17th Asian Games in Incheon, Sept 25, 2014. [Photo/Agencies]
Sports fans will have another chance to see Chinese swimming icon Sun Yang take on his South Korean rival Park Tae-Hwan, after South Korea's Olympic committee decided to allow the 26-year-old swimmer to compete at the 2016 Rio Olympic Games in August.
The ban on Park was suspended just ten days before the July 18 entry deadline for swimmers at the Rio Games.
Park, the first Korean to win an Olympic swimming medal, completed an 18-month ban imposed by world governing body FINA in March after testing positive for testosterone ahead of the 2014 Asian Games.
However, under Korean Olympic Committee regulations, he was then subject to an additional three-year ban from the national team the day the FINA suspension expired, effectively ruling him out of the Rio Olympics.
Park took his case to the Court of Arbitration for Sport and lodged an injunction with the Seoul Eastern District Court against the KOC and Korea Swimming Federation over the ban.
The court ruled that Park was eligible for selection for the national team, saying in its verdict that Park "has no reason for being disqualified based on Article 5 of the Korea Swimming Federation's rule on the selection of national team swimmers".