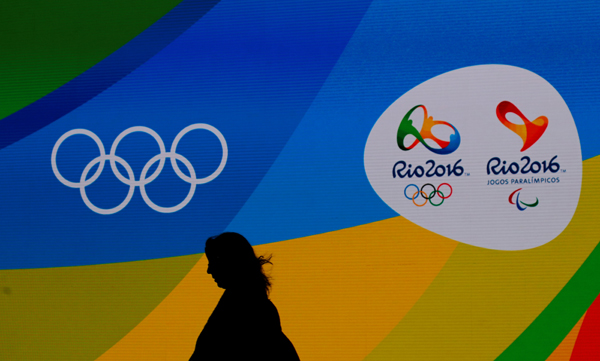 A journalist walks in front of a screen with Olympics logos during the medal launching ceremony in Rio de Janeiro, Brazil, June 14, 2016.[Photo/Agencies]
RIO DE JANEIRO -- Brazil's interim President Michel Temer has guaranteed Rio de Janeiro will stage a successful Olympic Games and assured international visitors that the city will welcome them "with open arms".
In an official statement released on Wednesday, Temer said controversy surrounding pollution, tropical disease, public safety and infrastructure concerns have been overcome.
"Brazil is ready to receive all of the visitors who will be enjoying the pleasure of watching the world's elite international sports athletes compete," Temer said. "And, surely, we will have a great deal to show the five billion viewers from around the world who will be watching the Games as well. Brazil awaits you with open arms."
Temer pointed to Rio's successful track record of hosting recent major sports events as proof the city is ready to cope with an estimated 500,000 international visitors.
"This will not be Brazil's first opportunity to show the world its capacity for organisation, and to welcome visitors warmly to a secure environment," Temer said. "Over the past few years, our country has developed an expertise in hosting mega-events on an international scale.
"We hosted the World Cup, the Pan-American Games, the World Military Games, World Youth Day and the Confederations Cup - all unanimous successes, which we conducted in a spirit of excellence, dedication and with the characteristic Brazilian love for life. And now, another success is on its way."
Brazil is suffering its deepest economic recession in decades amid a sprawling corruption scandal at state-run oil company Petrobras.
The country has also been engulfed by a political crisis following the suspension of President Dilma Rousseff pending an impeachment trial. A verdict on whether she broke budget rules before her 2014 reelection is expected to be given shortly after the Olympics.