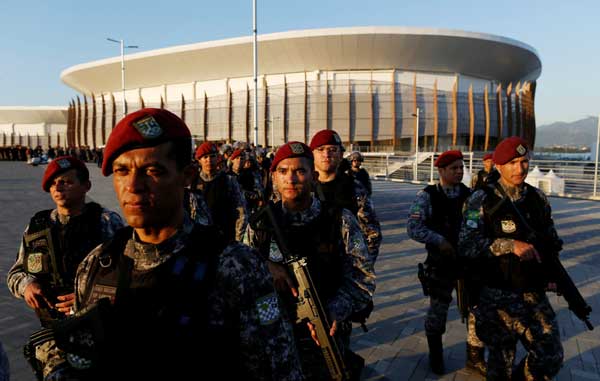 National Force soldiers arrive at the Rio 2016 Olympic Park in Rio de Janeiro, Brazil, July 5, 2016. [Photo/Agencies]
RIO DE JANEIRO -- Brazil's top security force officially took control of security at the venues for the Rio Olympics in a ceremony at Barra Olympic Park on Tuesday. The Forca Nacional, a federal co-operation of various Brazilian public security forces, will monitor the interiors and surroundings of the venues that will host the Olympic and Paralympic competitions in August and September.
"I am sure we will have a beautiful Olympic Games," said justice minister Alexandre de Moraes.
Along with the Forca Nacional, the federal police and 20 other bodies will co-ordinate to provide security for the events.
Another ceremony in the Olympic host city saw the launch of the security monitoring system to be used during Rio Olympics, the Sistema Integrado de Comando e Controle (SICC, the Integrated Command and Control System). The main objective of the system is to allow the exchange of information between the various bodies that will be functioning during the events.