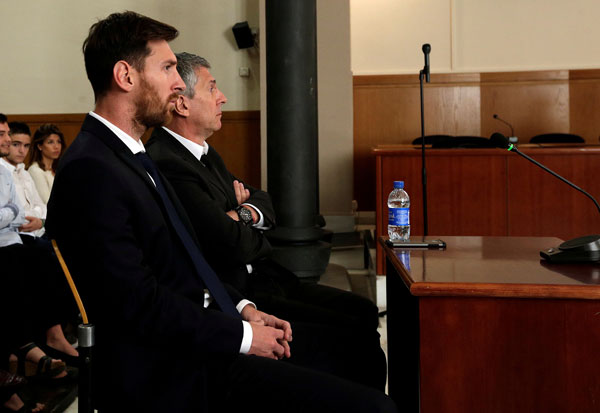 Barcelona's Argentine soccer player Lionel Messi (L) sits in court with his father Jorge Horacio Messi during their trial for tax fraud in Barcelona, Spain, June 2, 2016.[Photo/Agencies]
MADRID - World soccer superstar Lionel Messi was sentenced on Wednesday to 21 months in prison and fined 2 million euros ($2.2 million) after being found guilty of three counts of tax fraud, although it is unlikely he will serve time in jail.
The Spanish court handed the same sentence to the Argentine player's father, Jorge Horacio, with a 1.5 million euro fine. Both defendants said they would appeal to the supreme court.
"The sentence is not correct and we are confident the appeal will show the defence was right," Messi's lawyers said in a statement. They added Messi had always acted in good faith.
Spanish law is such that any sentence under two years for a non-violent crime rarely requires a defendant without previous convictions to serve jail time. A spokeswoman for the court confirmed that Messi, 29, was unlikely to be imprisoned.
Messi, five times World Player of the Year and one of the world's highest-earning athletes with an estimated income of $350 million in the past 10 years, plays for Barcelona football club where he is the leading goal scorer of all time.
The court in Barcelona said in a ruling that Messi and his father defrauded the Spanish tax office of almost 4.2 million euros between 2007 and 2009 by using a web of shell companies to evade taxes on income from the player's image rights.
The companies - with names such as Sport Consultants and Sport Enterprises - were based in countries such as Belize, Uruguay, Switzerland and Britain where legislation kept the identities of their owners secret, it said.
Messi admitted during the trial in early June to signing contracts protecting his image rights but said he had no knowledge he was committing any wrongdoing or defrauding the Spanish state.
He said his father had control over his financial affairs, but the court said on Wednesday that this was not enough to avoid charges and Messi's "ignorance" did not remove responsibility.
"The information that the accused avoided having was, in reality, within his reach via trustworthy and accessible sources," the presiding judge, Mercedes Armas Galve, wrote in the ruling.