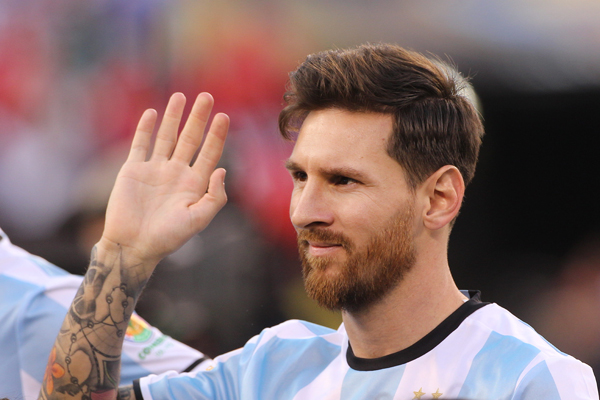 Lionel Messi of Argentina during team presentations before the final match of the Copa America Centenario USA 2016 tournament between Argentina and Chile at MetLife Stadium on July 26, 2016. [Photo/VCG]
RIO DE JANEIRO - As Lionel Messi collapsed to his knees and planted his forehead into the MetLife stadium turf, it was hard not to feel some compassion for the Argentinian forward.
Minutes earlier, the 29-year-old had missed a penalty in the Copa America final shootout defeat by Chile.
Despite Messi's obvious anguish, nothing could prepare the football world for what was to follow when he emerged from the dressing rooms to speak to a clamoring media throng.
"For me, the national team is over," Messi said, head bowed. "I've done all I can. It hurts not to be a champion."
This was a reminder that for all his seemingly superhuman qualities on a football pitch, the Barcelona talisman is in fact a mortal being.
The difference for Messi is that pressure means carrying the hopes of a nation of 41 million people, and that criticism is strewn relentlessly across news portals and social media feeds, or shouted at him whenever he steps out in public.
Messi's decision to quit international football is probably the result of several factors that have made playing for Argentina too stressful to bear.
For a start, this was Argentina's third defeat in a final of a major competition in as many years. In addition to last year's Copa America misadventure - when they also lost in a penalty shootout to Chile - the Albiceleste fell to Germany in the 2014 World Cup final after an extra-time goal from Mario Gotze.
Moreover, Messi is still yet to win a major international tournament for Argentina, notwithstanding the 2008 Olympic Games. The Albiceleste's own title drought dates back to 1993.
There is also the simmering row between Argentina's players and the country's football association (AFA), which has been wracked by internal power struggles and financial difficulties.