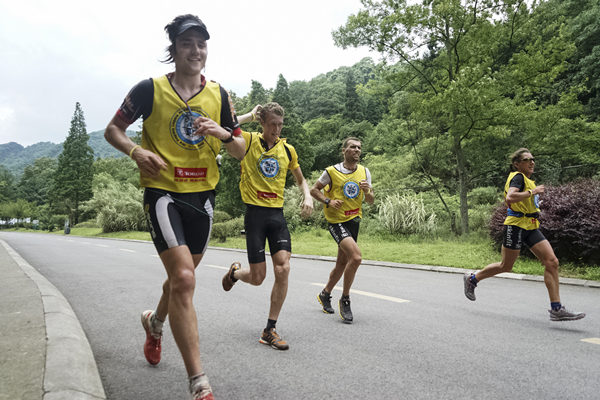 Athletes run a mountain trail during the three-day competition of the 2016 Longmen International Outdoor Quest in Pengzhou, Sichuan province on June 19. [Photo provided to chinadaily.com.cn]
The success of an international outdoor sporting event has cemented Pengzhou city's status as a popular destination for adventure and leisure exercises in Southwest China, said organizers.
Boasting ideal mountain terrains and well-developed infrastructures, the Longmen Mountain area in Pengzhou, Sichuan province hosted the 2016 Longmen International Outdoor Quest from June 17 to 19, where 25 teams consisting of four-members all over the world were challenged in a variety of outdoor sports over a course of more than 170 kilometers.
Zhang Zhijian, the secretary general of Chinese Mountaineering Association, spoke highly of the organizational work and the natural environments in Pengzhou.
"If it wasn't for hosting the event, we wouldn't have discovered such a great place for all kinds of outdoor sports and adventure as well as leisure activities in Pengzhou," Zhang said on Thursday.
"The rugged mountain terrain, riverside trails and forest-covered valleys here provide a perfect combination for not only staging elite-level international events like the quest but also catering to amateur outdoor enthusiasts and tourists," he added.
As a physically demanding cross-sport outdoor competition, the 2016 Longmen International Outdoor Quest challenged athletes' physical and mental limits through tests of long-distance trail running, mountain biking, kayaking and open-water swimming over a three-day period.
After overcoming acclimation issues, a cross-country international team, Raw Adventure, finished all the courses first in an accumulative time of four hours, 28 minutes and 51 seconds. Team Thule Adventure finished second in 4:41:21 and team Swedish Armed Forces Adventure followed in third place three minutes later.
Daniel Jones, a New Zealand outdoor explorer from team Raw Adventure, said the experience of racing in all forms of outdoor sports one by one is challenging yet fun.
"After running on mountain trials and biking through gravel courses in forest, you are already tired but the excitements of kayaking and swimming in beautiful nature next will make you feel fresh," he said.
"Successfully hosting the first of its kind of event has inspired the city to invest more in route assessment and relevant facility development to build the area into an outdoor sports and tourism destination in near future," said Mi Lanjia, vice mayor of Pengzhou, on Thursday.