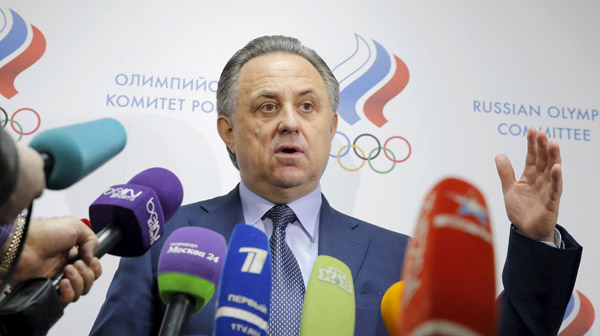 File photo shows Russian Sports Minister Vitaly Mutko speaks to the media during a news conference following a meeting in Moscow, Russia, January 16, 2016. [Photo/Agencies]
MOSCOW - Russian Sports Minister Vitaly Mutko said on Sunday the world athletics governing body, the IAAF, has unfairly shifted blame for the doping scandal onto Russia's athletics federation and should be disbanded, R-Sport news agency reported.
The International Olympic Committee (IOC) on Saturday backed the IAAF's decision to extend its ban on Russia for systematic doping, ending any slim hopes that Russian athletes might have had of competing at the Rio Games in August.
The decision is being contested by the Russian athletes: race-walkers Denis Nizhegorodov and Svetlana Vasilyeva launched an appeal to the Court of Arbitration for Sport over the decision to uphold the doping ban, which would bar them from competing in Rio, All Sport news agency reported.
The agency quoted Andrey Mitkov, a sports agent, as saying that the "class action" appeal will de delivered to the court in Lausanne on Tuesday.
The president of the IAAF Sebastian Coe has said that Russia has made some progress in tackling the use of prohibited substances by athletes, but it was "not enough" to lift the ban.
"In essence, by shifting the responsibility to the All-Russia Athletics Federation, they have exonerated themselves from responsibility. The IAAF should be disbanded," Mutko was quoted as saying on Sunday.
The IAAF suspended Russia last year over concerns its athletes were guilty of systematic doping.