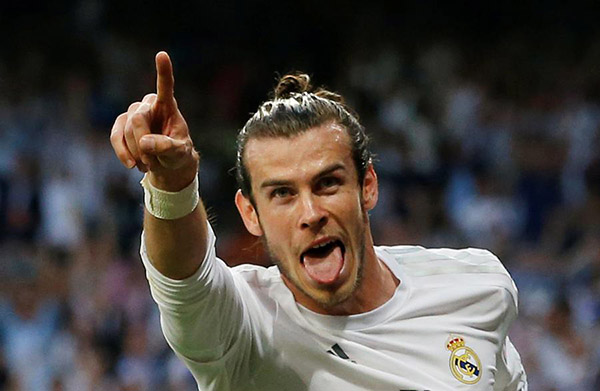 Gareth Bale celebrates scoring the first goal for Real Madrid against Manchester City during their Champions League semifinal second leg match at the Santiago Bernabeu stadium in Madrid, Spain, April 5, 2016. [Photo/Agencies]
LONDON -- On the eve of Saturday's UEFA Champions League Final, Real Madrid have been crowned the kings of football, financially.
A report published here by the renowned financial experts KPMG has drawn up a list showing the enterprise value of Europe's top 32 football clubs.
The clubs have a combined enterprise value of just under $30 billion, with Real Madrid topping the list with $3.347 billion (2.996 billion euros).
In the money league table, Real's Saturday's opponents, Atletico de Madrid, are in the 14th place with a value of $690 million.
Runners-up are Manchester United with a value of $3.33 billion.
FC Barcelona are in the 3rd place with $3.17 billion, and Bayern Munich on fourth with a value of $2.50 billion.
Arsenal are in the 5th spot, followed by Manchester City, Chelsea, Liverpool, Juventus, and in the 10th place Paris-Saint Germain.
KPMG said the three highest valued clubs, (Real Madrid, Manchester United and Barcelona), account for a third of the cumulative value of all 32 clubs.
It says the English Premier League's multi-billion dollar broadcasting deal, now valued at almost $2.7 billion per season, is having a significant impact on the value of English clubs.
Andrea Sartori, KPMG's global head of sports and the report's author, said, "While football clubs are among some of the world's most instantly recognized brands, with truly global fan bases, their Enterprise Value when measured in a similar way to any other business, is relatively small.
"Thanks to the deal signed by the English Premier League at the beginning of 2015 the difference in terms of broadcasting revenues among the leading European leagues and the Premier League has widened significantly, despite the booming price of domestic broadcasting rights across other parts of Europe."
English clubs top the report in terms of Enterprise Value (EV) per country with a combined total value in excess of $11 billion, accounted for 40 percent of the aggregate value of the 32 European clubs valued.
Spanish teams, who have won all of Europe's major club competitions for the past three years, comes next with a value of almost $7.4 billion, buoyed by Spain's two giants, Real Madrid CF and FC Barcelona, which together represent 85 percent of the Spanish pie.