Tyson calls visit to Great Wall 'really awesome'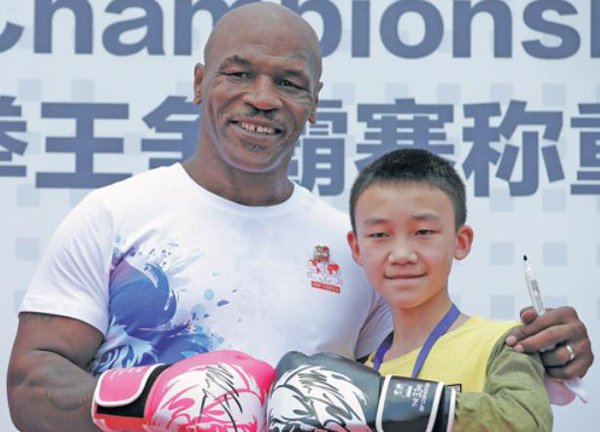 Mike Tyson poses with a young fan at the weigh-in for Wednesday night's IBF world flyweight title bout at Beijing's Diamond Stadium. The weigh-in was held on Tuesday at the Mutianyu section of the Great Wall. [Photo/Agencies]
Chinese boxing fans got a chance to shake the hand that shook the world when Mike Tyson visited Beijing this week.
And, as befits a guy renowned for his legendary capacity to stand and deliver, the former undisputed heavyweight king and "baddest man on the planet" came through like a champ.
On Tuesday afternoon, less than a day after an exhausting 15-hour journey to the Chinese capital, Tyson charmed a massive throng of fans and media at the Mutianyu section of the Great Wall, site of the official weigh-in for Wednesday night's International Boxing Federation flyweight title rematch between champion Amnat Ruenroeng of Thailand and No 1-ranked Johnriel Casimero of the Philippines.
Tyson was ringside for the bout at Diamond Stadium in National Olympic Park as a guest of the IBF, which is holding its annual convention in Beijing this week.
In a chat with China Daily, the 49-year-old Tyson said his first visit to the historic site was an eye-opener.
"Now I know why it's called the Great Wall - it's a great workout getting up here," he said. "I didn't ride the cable car ... I wanted to be a real man and make the climb.
"It was really awesome, and now I can feel my heart pumping, you know? I guess I'm a little bit in denial about my age, but this makes me realize I'm not a kid anymore."
Between posing for photos and signing countless autographs, the youngest heavyweight champion in history (Tyson was 20 years and five months old when he dethroned Trevor Berbick in 1986) inquired about the health of Canadian ring icon George Chuvalo before expounding on Olympic boxing and the decision by the International Amateur Boxing Association to eliminate headgear.