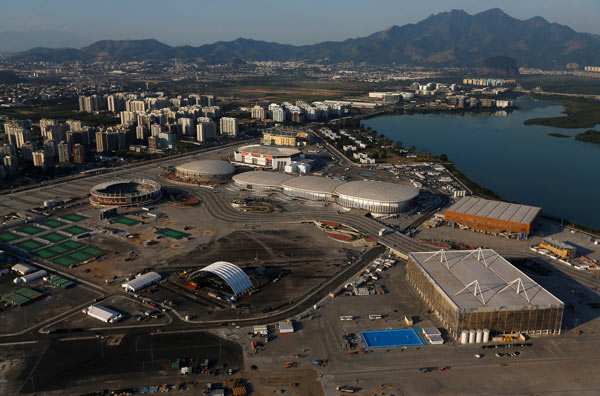 An aerial view of the 2016 Rio Olympics Park in Rio de Janeiro, Brazil, April 25, 2016. [Photo/Agencies]
RIO DE JANEIRO - Brazilian health minister Ricardo Barros briefs International Olympic Committee on plans that include hiring 6,000 extra staff to ensure public health during the Rio Olympic and Paralympic Games.
Barros visited the International Olympic Committee (IOC) in Geneva on Tuesday and told IOC director general Christophe De Kepper and medical director Richard Budgett about the results of his meeting last week with the governor and mayor of Rio de Janeiro, during which authorities discussed final adjustments ahead of the Games in August. All levels of government in Brazil - federal, state and municipal - are taking measures to combat the zika virus, which is carried by the aedes aegypti mosquito.
These measures include the hiring of 2,500 extra health workers to assist at Rio's hospitals and first aid points, as well as 3,500 people whose job will be to ensure that prevention measures are enforced in all of the Olympic competition areas.
Brazil's health minister also presented the IOC with data confirming that the virus-carrying mosquito is less common during the cooler and dryer months of the Brazilian winter, when the Rio Olympics will take place.
De Kepper said that the IOC was pleased with the efforts of the Brazilian government, which is working closely with the World Health Organisation (WHO). "We are fully confident that the measures taken by Brazil will provide safe conditions for all those looking forward to experiencing great Games in a few weeks' time."