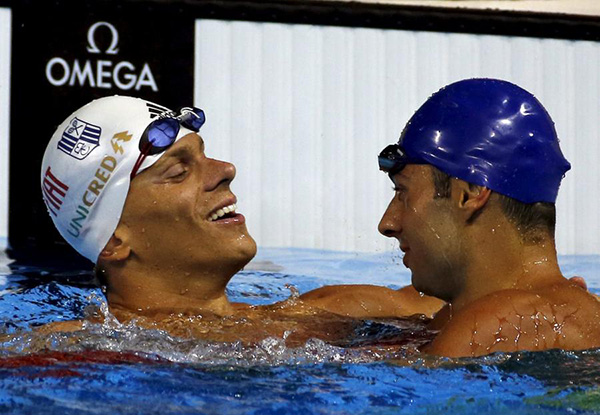 Cesar Cielo, left, of Brazil greets his teammate Italo Duarte after their men's 50m freestyle, at the Olympic Aquatics Stadium, Rio Olympics Park, Rio de Janeiro, Brazil, on April 20, 2016. [Photo/Agencies]
RIO DE JANEIRO - Brazil's 50m and 100m freestyle world record holder Cesar Cielo has missed out on a berth at this year's Olympics in Rio de Janeiro after failing to qualify in his two pet events.
Cesar, who won gold in the 50m freestyle at the Beijing 2008 Olympics, achieved the event's Rio 2016 qualifying standard on Wednesday with a time of 21.91 seconds.
But it was only enough to place him third behind Bruno Fratus and Italo Duarte in the final of Brazil's last Olympic swimming qualifying competition. Brazil is only allowed to have two swimmers for each individual event.
"Unfortunately I didn't qualify but I want to say that Brazil will be taking the best two [Bruno Fratus and Italo Duarte]," Cesar said. "I wish them luck and will be supporting them as much as I can."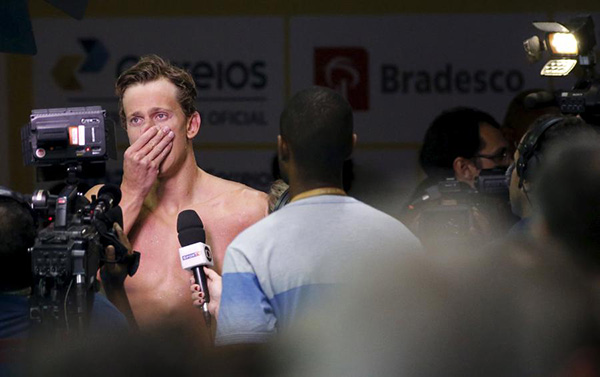 Cesar Cielo of Brazil reacts after his men's 50m freestyle during the 2016 Rio Olympics test event at the Olympic Aquatics Stadium, Rio Olympics Park, Rio de Janeiro, Brazil, on April 20, 2016. [Photo/Agencies]