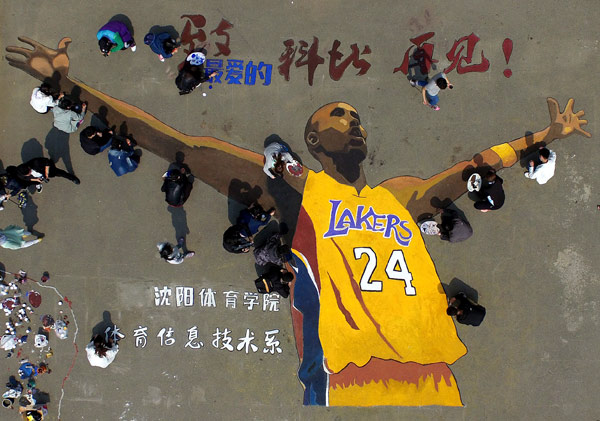 Students paint a picture of Kobe Bryant on the campus of Shenyang Sports University on Thursday, in a tribute to the basketball star who has played his last NBA game. PAN YILONG / XINHUA
Tributes to Kobe Bryant went viral on the internet in China on Thursday after the basketball star scored 60 points in his final game, ending 20 years in the NBA.
Bryant is immensely popular in China, the NBA's biggest overseas market, and he signed off in style in the Los Angeles Lakers' 101-96 victory over the Utah Jazz.
The tributes to Bryant overshadowed the Golden State Warriors' 73-win NBA all-time regular season record, also achieved on Wednesday (Thursday, Beijing time).
"KB20", a designated page on China's major social networking platform Sina Weibo, had more than 410 million views within an hour of the Lakers' game ending, while the frenzy surrounding the star also created business opportunities.
Beijing-based IRENA Group said all the tour packages it offered, including tickets and accommodations, to attend the Lakers game sold out early in March, despite prices as high as 14,999 yuan ($2,314).
Zeng Lingxu, a guard with Chinese Basketball Association club Shanxi, witnessed his idol's final game from a prime seat at the Staples Center, the Lakers' home stadium, after paying $2,000 for a ticket.
"I've been a loyal fan of Kobe's since first seeing him play against Michael Jordan in the 1998 All Star Game. I would have been sorry if I hadn't been able to watch his last game on-site," the 29-year-old said.
If Jordan opened the NBA's doors to the world in the 1990s, Bryant is arguably his closest present-day equivalent — raising the sport's profile in China through his huge fan base and high exposure.
Since 2006, Bryant has visited China at least once a year. The "Kobe" chants heard during his offseason trips to the country were deafening. Fans and the media mobbed him at every public appearance, while his smile graced billboards from Beijing to Shanghai.
As a former teammate of Bryant, the Charlotte Hornets' Chinese-American guard Jeremy Lin said the Lakers' star reminded fans of Jordan due to his work ethic.
"The favorite player for every kid from my generation was Jordan. I think that if you fast-forward a few years, that's probably what Kobe was to a lot of kids growing up," said Lin, who played for the Lakers last season.
According to NBA China, Bryant's jersey was a best-seller in China from 2008 to 2013, while the Lakers have consistently been one of the most-watched teams.
NBA China CEO David Shoemaker said: "Kobe's impact on China has been phenomenal. He has a good sense that his success has been driven in part by his great fans in China."