MELBOURNE - Australia' s Davis Cup tie against the USA at the weekend was supposed to bring together the country''s two leading players, Nick Kyrgios and Bernard Tomic, under the sage guidance of debutant team captain Lleyton Hewitt, and launch a brand new era for Australian tennis.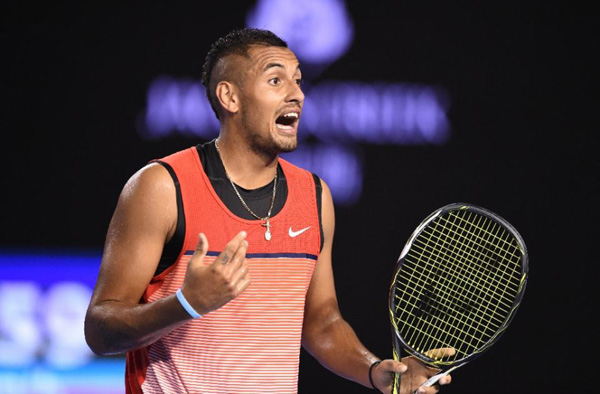 Among numerous verbal outbursts, Nick Kyrgios (pictured) infamously made crude remarks in 2015 about the girlfriend of Swiss ace Stan Wawrinka and was given a suspended 28-day ban and fined US$25,000. [Photo/Agencies]
For too long, Australia' s best two players have been making news for all the wrong reasons - terrible on-court behavior, tantrums and accusations of tanking - and Hewitt's firm hand as leader was, we thought, going to teach the young firebrands the joys of representing their country, and hope a bit of the spirit of Australian tennis great Harry Hopman rubbed off on them at the same time.
But, when Kyrgios pulled out of the squad at the last minute, those best-laid plans started to come unstuck. The Australian team scrambled to best work out how to handle a dangerous US squad - Hewitt brought himself into the team at the last minute, even though he retired in January - as their preparations were thrown into disarray.
It was no surprise then that the makeshift Australian team ultimately lost 3-1 to the Americans on Sunday.
But, illustrating the dysfunctional relationships that exist within a very young Australian tennis outfit, Tomic, 23, launched an on-court tirade against Kyrgios - picked up by TV microphones - during his fourth-rubber loss to world No. 11 John Isner.
Speaking to Hewitt at the change of ends, Tomic criticized Kyrgios for his decision to abandon his Davis Cup duties, inferring his compatriot was not really injured but simply saving himself for the lucrative Indian Wells ATP event later this week.
He told Hewitt that Kyrgios' illness was "bulls***" . An outburst, indeed, but one he backed up in his post-match press conference - in a measured and convincing fashion.
Albeit a little brash, the sentiment was fair. It was evident that Tomic has grown up a lot in the last 12 months, and his well-founded criticism of current Aussie "bad boy" Kyrgios was only indicative of his intent to put his own head down and let his tennis do the talking.
Tomic said if Kyrgios was suddenly well enough to get out of bed and head to California for the Indian Wells tournament which begins in just three days, he would "lose respect" for his countryman.
The world No. 20 then talked about Kyrgios' poor track record of wanting to represent his country, something Tomic described as an "honor".
"Now I' ll be interested to see if (Kyrgios) plays Indian Wells as well because a similar thing happened last year where he didn' t come to the Czech Republic (for Davis Cup tennis) , and somehow played Indian Wells and felt good, " Tomic said on Sunday.
"If he plays Indian Wells, he' s definitely lost a little of my respect."
In contrast, Kyrgios immaturely thought it was best to retaliate instead of swallow his pride or point his fans to the medical certificate given to him by Australia' s medical team pre-tournament.
Instead he mocked Tomic' s unfortunate claim as being the fastest loser in men' s tennis - a 28 minute affair which occurred in the prime of Tomic' s own immature period on tour.
"Let' s not forget who holds the quickest loss on the ATP tour, " Kyrgios posted to social media website Twitter late on Sunday.
That tweet was promptly deleted and replaced by something a little more measured. However, following that, Kyrgios couldn' t help himself and fired one parting shot at Australia' s No. 1 player.
"Heat of the moment, not gonna take it personally. Indian Wells a week away, plenty of time, " Kyrgios wrote on Twitter.
"Just don' t expect me to have your back anytime soon, " he added.
Ironically, following Australia' s David Cup defeat, Tomic might yet be forced to withdraw from Indian Wells - in his gutsy effort against world No. 11 John Isner, the 23-year-old re-aggravated a niggling wrist injury which, pre-Davis Cup, also put his appearance at Kooyong in doubt.
But Tomic' s willingness to fight on and represent his country should be admired. The phone conversation he had with compatriot Kyrgios following the Davis Cup loss was telling: " I should be better tomorrow" , Tomic was told.
Ultimately, if Kyrgios is magically "better" on Monday, he would have been "better" on Sunday as well. And possibly "better" on Saturday. And on current form, a mildly ill Nick Kyrgios would have been a better choice than a fully fit Sam Groth, whose 2016 form can only be described as woeful.
At the very least Kyrgios could have made an appearance at Kooyong to cheer on his teammates, particularly if he is magically feeling good enough to board a 14-hour flight to the United States either on Monday or Tuesday.
While the comments Tomic made in his press conference have been described by some as inflammatory and an indication the Australian team is dysfunctional or in disarray, Tomic is admirably holding Kyrgios accountable - telling him to grow up. If not anything else, Kyrgios might yet feel compelled to respect playing for his nation, and treat it as the honor it is.
The 20-year-old' s response to Tomic' s comments leaves a lot to be desired. Kyrgios took strides in getting the fans on-side during the Australian Open; his interactions with the press were courteous and respectful, and his on-court antics entertaining but not controversial.
But the Davis Cup saga might have lost him some supporters. His immature response was ultimately unnecessary, and only further validated Tomic' s point of view.
In Australia' s hour of need, Kyrgios chose to not even sit on the sidelines, while Tomic fought despite injury - painting himself as the typical and well respected "Aussie battler" . And if Kyrgios indeed suits up in California on Thursday, the Australian public might not forget in a hurry.