BEIJING - Chongli, a small town about 200km northwest of Beijing with only 30,000 population, might be the biggest beneficiary from the successful bid of Beijing, together with Zhangjiakou, for the 2002 Winter Olympics.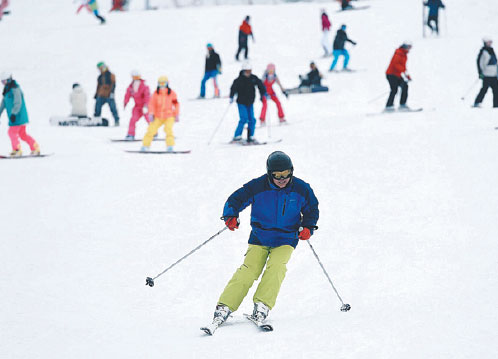 The recent snowfall has attracted skiing fans from around to the ski resorts in Chongli county, Zhangjiakou, Hebei province. Liu Chang / For China Daily 
To stage most of the skiing events of the Olympics, Chongli has witnessed skiing and tourism becoming the mainstay of its economy as it received over 530,000 tourists, 17 times more than its population in town during China's Spring Festival 2016, making over 400 million yuan (61 million US dollars) in tourism income for 26.1 percent growth over the same period last year.
The average house and real estate prices in the used-to-be poverty-stricken Chongli County, under administration of Zhangjiakou city, have soared to around 10,000 yuan (about 1,500 dollars) from 5,000 yuan since the Winter Olympic bid.
The construction of Beijing-Zhangjiakou high-speed rail link already began last year and the rail service will be fully operational by early 2019.
Olympic venue, convenient transportation, pleasant climate and ski resorts are the luring elements for more and more Beijingers buying houses in Chongli.
Until now, Chongli has opened five ski resorts to the public, which arouse people's interest to take part in skiing here nationwide.
"We received over 8,000 people on Jan. 2, marking the peak of the resort per day," said Yu Donglin, manager of Wanlong, one of the largest ski venue in Chongli.
Two million people are estimated to take part in this near-ended snow season, as compared to 1.01 million, 1.42 million and 1.67 million respectively in the last three seasons.
"Wanlong got out of the red in 2015 after 11 consecutive years' loss," Yu added.
Yang Jingzhi, former Hebei sports bureau vice director, has witnessed the tremendous changes in Chongli in 16 years.
White clouds, black land, green trees and grass, fresh air left a so beautiful impression in Yang's mind when he went to Chongli, nestled in mountains near the Great Wall, on a summer day 16 years ago, while the residents were so poor that their houses were even half underground.
"At that time, people there earned a little money by selling wild mushrooms, while gold resources were the main income of Chongli," Yang added.
Chongli has realized fast development since the Chinese government committed to poverty alleviation and building a well-off society in an all round way.
"Natural condition is unchanged, still beautiful as a decade ago. People's living standard has improved a lot and so does the house price," Yang said.
Huge market provides jobs for local residents, among which 20,000 engage in skiing and tourism industry. Nearly 10,000 people live in rural areas and earn living by growing green house vegetables which is widely promoted in the district.
The preparation work of 2022 Beijing Winter Games is underway and has become a hot topic on the ongoing National People's Congress.
"Zhangjiakou will make relevant plannings and designs this year," said Hou Liang, a delegate of the 12th National People's Congress.
All the venue construction will be completed by the end of 2020 when the city is capable of holding test events, said Zhangjiakou mayor Ma Yujun who had released the city's five-year development plan in January.
"We need to cultivate professional athletes, increase investment in venue and facility construction, and boost the development of ice and snow industry," said Yao Bin, head coach of national figure skating team.
Yao also advised to forge a Beijing-Zhangjiakou culture and sport tourism belt to promote mass ice and snow activities.