TORONTO - Vince Carter, the 39-year-old Memphis Grizzlies forward, returned to Toronto on Sunday evening to face his former team.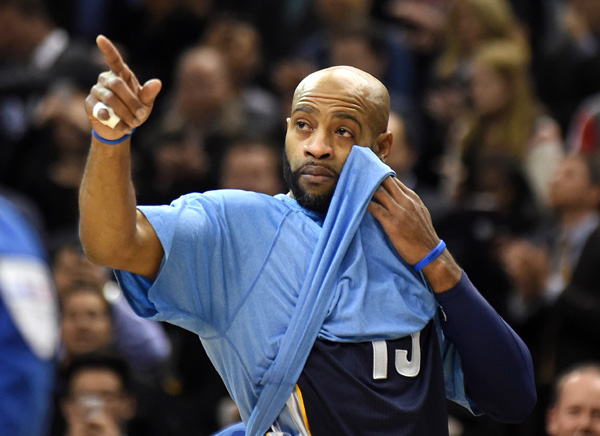 Memphis Grizzlies forward Vince Carter gestures as he reacts to a highlight reel from his days in Toronto as the Raptors paid tribute to him as part of their 20th anniversary celebrations in the first quarter at Air Canada Centre. [Photo/Agencies] 
Grizzlies fell 98-85 to Raptors despite Carter putting up season-highs of 31 minutes and 16 points during the game, easily eclipsing his season averages of 4.4 points and 13.7 minutes per game.
Playing in his 18th season and as one of the oldest players in the NBA, Carter is no longer the player he used to be: a dynamic perennial All-Star that is the primary scoring option on his team. Instead, he is the veteran that offers advice to younger players and occasionally contributes when called upon.
"As you've gone through the rodeo so many times, it gets easier. You know how to prepare yourself and relax and play your game," said Carter. "That's where I learned it from. It might not work for every player and if those guys allow me to do so, I try to (help them)."
Despite the reduced role, Carter has yet to grow tired of the game of basketball.
"I have to get here a little earlier now to get the motor running. It's all part of my routine. It's what I enjoy doing," Carter said. "I still love playing, competing and the comradery. What this game brings I still enjoy it."
Carter has played with six different NBA teams so far in his career. The product of University of North Carolina has played with Raptors, Nets, Magic, Suns and Mavericks prior to joining the Grizzlies last season.
His most dominant period of his career was in Toronto where he began his career from 1998 to 2004. During this time, Carter was the All-Star game's voting leader in 2000, 2001, 2002, and 2004.
"It's a great feeling to come here and get cheers from people showing their love and respect. I come here to play well, that's it," said Carter of his positive reaction from the Air Canada Center crowd during the game.
Carter currently ranks second in Raptors history with 9,420 career points and first in scoring average of 23.4 points per game.
Carter's influence have not only taken place on the court, but also off the court. Many have credited Carter as a key catalyst for growing the game of basketball in Canada over the past two decades.
Over the last five years, there have been 15 Canadian-born players who entered the NBA, including first overall picks in Andrew Wiggins and Anthony Bennett.
"I've realized it. I see it a lot now," said Carter on his legacy on Canadian basketball. "I'm just glad you guys are getting to hear my side and my appreciation about my time here, because this is where it started. Plain and simple, this is where it started."