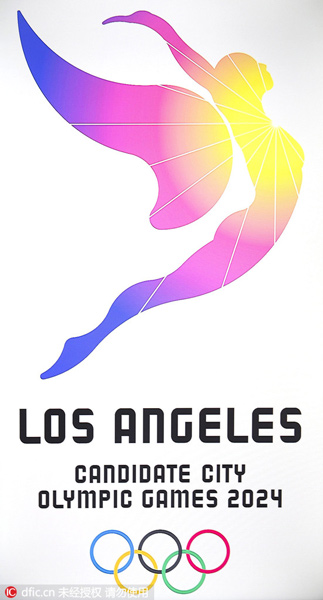 A monitor screen shows the logo for the Los Angeles's 2024 Olympic Games bid during its unveiling in Los Angeles, California, the US, Feb 16, 2016. [Photo/IC]
LOS ANGELES - Los Angeles has made public its logo for the city's bid for the 2024 Olympic Games on Tuesday.
The logo was displayed on a digital screen which is a figure of a soaring angel with outstretched arms and legs illuminated by the rays of the sun. The American city's slogan for the bid is "Follow the Sun".
Broadcast online, Tuesday's ceremony was attended by mayor Eric Garcetti, LA 2024 chairman Casey Wasserman, retired Olympic champion swimmer Janet Evans, who is an LA 2024 vice-chair and director of athlete relations, and USOC chief marketing officer Lisa Baird.