Starry midfielder closing in on assists record
Arsene Wenger proclaimed Mesut Ozil the best player in the Premier League and the equal of Arsenal legend Dennis Bergkamp following another dazzling display in a 2-0 win over Bournemouth.
German midfielder Ozil set up one goal and scored the other at Emirates Stadium on Monday to help Arsenal regain top spot in the standings, leaving pundits running out of superlatives to describe his performance.
Ozil's statistics are astonishing, even by his own high standards.
So far this season he has scored five goals and added 16 assists in the Premier League - closing in fast on the all-time record of 20 assists set by another Arsenal great, Thierry Henry.
Against Bournemouth he set another mark, creating nine scoring opportunities for teammates - the highest figure registered in the league this season.
No wonder Gunners boss Wenger was happy to suggest his midfielder has been peerless in the league this season.
When asked if Ozil is now the best player in the Premier League, Wenger said simply: "Look at the number of the assists; they speak for him."
The manager also acknowledged comparison with Dutch forward Bergkamp, who was such an inspiration in Wenger's early days in north London.
"Bergkamp was more of a scorer than him. But now Ozil becomes a scorer too. They could be comparable," he said.
All this from a player who last season was labeled as a luxury by some onlookers, singled out by Henry as a someone who needed to "step up his game" and accused of drifting out of matches by German legend Lothar Matthaus.
Throughout it all, however, Wenger remained staunchly loyal to a player he signed from Real Madrid, insisting Ozil would eventually become a Footballer of the Year in England.
Focal point
"Ozil was the focal point of our team," Wenger said after goals from the German and defender Gilberto, from an Ozil corner, clinched a crucial victory against Bournemouth that sent Arsenal one point clear at the top of the Premier League.
"I don't know if it was his best performance; I have seen a few good games from him this season.
"What is important is that he convinces everyone he's not only a fantasy player, but a player who is ready to work for the team very hard, in every game.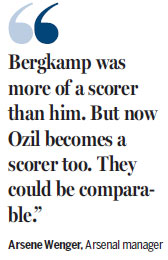 "He's added scoring goals to his assists. Overall he's a complete player."
Ozil's transformation into Arsenal's talisman has been fascinating to watch, but what has impressed most this season is his level of consistency - and at the age of 27 Wenger does not yet believe he has reached his peak.
"What's important is that he becomes as good as he can be - and he's on the way. Is there a lot left? I don't know, but at the minute what he's doing is absolutely fantastic," Wenger said.
"In a career you have to be better every game. Some people manage to have that focus, that consistency - and some cannot.
"He shows that he is always consistently going upwards."
Ozil is not the only player at Arsenal setting records.
Goalkeeper Petr Cech reached a new Premier League mark of 170 shutouts in his career by blanking Bournemouth, drawing praise from his manager ahead of a home game against Newcastle on Saturday.
"I think he can be very proud of that," said Wenger. "It's a remarkable achievement. People don't realize how much commitment, how much focus is behind that.
"And on top of that he's a remarkably talented goalkeeper.
"Consistency for me is the most important achievement for somebody."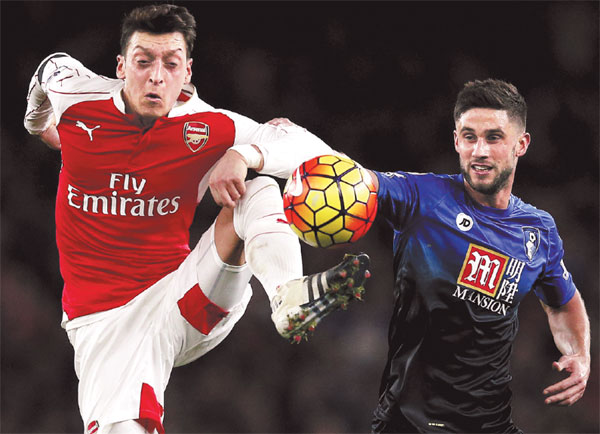 Arsenal midfielder Mesut Ozil controls the ball in front of Bournemouth's Andrew Surman during their English Premier League match at Emirates Stadium in London on Monday. Ozil set up one goal and scored another as the Gunners won 20. Adrian Dennis / AFP
(China Daily 12/30/2015 page22)