Paris Saint-Germain's Blaise Matuidi said on Monday the runaway French Ligue 1 leader had set "high objectives" for 2016 and aimed to go as far as possible in the Champions League.
Speaking in Doha during the club's winter tour in Qatar, Matuidi said PSG is also looking to break more records in the second half of the season.
"We have high objectives and we do want the second part of the season to be great," he said after a 90-minute training session in the Qatari capital.
"We started really well, breaking a record, but we want to break more with the league and, of course, with the Champions League our goal is to go as far as we can."
However, he also said: "There's a big game waiting for us."
PSG has drawn English champion Chelsea for the third season in a row in the Champions League.
Chelsea triumphed in 2014, but PSG gained revenge in last season's competition before being knocked out by eventual winner Barcelona.
This time PSG will start as clear favorite not only because of its irresistible form but because the English champion has been dismal all season, losing nine matches and currently sits 14th in the English Premier League after Monday's stalemate with Manchester United.
PSG's Qatari owners hope the summer signing of Argentina winger Angel di Maria from Manchester United can help propel it further in 2016, with president Nasser Al-Khelaifi declaring: "We are close to our dream."
The matches take place in February and March.
In France, the league is all but won.
PSG sits a massive 19 points clear at the top of Ligue 1 at the halfway mark of the season with 51 points, a record for the French league.
It has won 16, drawn three and remains unbeaten.
Among the records the Parisians have a chance of breaking is for the most points in a Ligue 1 season - the current high is 89 held by PSG - and the most games unbeaten, which stands at 32, set 20 years ago by Nantes.
Midfielder Matuidi has just been named French soccer player of the year 2015 by France Football magazine and said he was "really happy" about the award.
"It's a real honor. I was voted in by former award recipients so I'm really happy about that. I'm very proud," said the 28-year-old.
PSG will play Italian league leader Inter Milan in a friendly in Qatar on Wednesday before heading back to France.
Training on Monday took place in temperatures of about 22 degrees C (71 F).
Among the players taking part were Zlatan Ibrahimovic and Marco Verrati.
The session was overseen by coach Laurent Blanc.
The Italian side arrived in Doha on Monday and trained on Tuesday.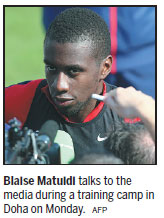 (China Daily 12/30/2015 page22)