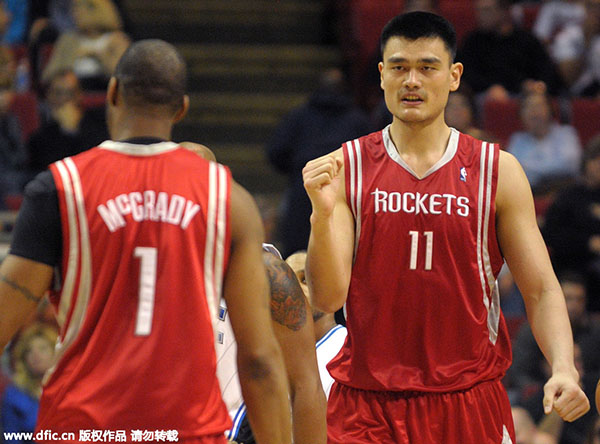 Then Houston Rockets center Yao Ming (11) celebrates with teammate Tracy McGrady (1) late in the second half of an NBA basketball game against the Orlando Magic in Orlando, Fla., in this Nov 22, 2008 file photo. The Rockets won 100-95. [Photo/IC]
Former Houston Rockets center Yao Ming has been nominated for the Naismith Memorial Basketball Hall of Fame, in a move that could make him the first Chinese player to receive the honor.
The Rockets, with which Yao spent nine years from 2002 to 2011, filed the nomination after The Hall of Fame recently reduced the eligibility requirement from five seasons after retirement to four, according to FOX 26 Sports.
The rule change opens door to Yao, as well as other NBA legends, notably Shaquille O'Neal and Allen Iverson, all of whom could be inducted in 2016.
Yao said he was "pretty excited and nervous" about the nomination in a telephone interview with the sports media outlet.
Since drafted by the Rockets in 2002, the 7'6" man went on to become the best recognized Chinese face in the league as an eight-time All Star.
After injuries hurt his form, the veteran was forced to call an end to his sporting career in July, 2011.
But retirement didn't remove the star from the spotlight. Yao, who continued to be China's global sports brand, remained in news off the court as a wildlife conservation advocate.
The WildAid ambassador has appeared in a string of videos calling for wildlife protection.
The 35-year-old has also been a national political advisor since 2013, representing his native city Shanghai.