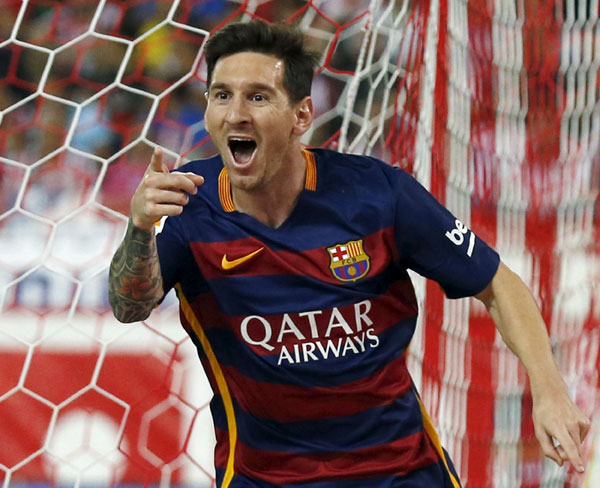 Barcelona's Lionel Messi celebrates after scoring a goal against Atletico Madrid's during their Spanish first division soccer match at Vicente Calderon stadium in Madrid, September 12, 2015. [Photo/Agencies]
MADRID -- FC Barcelona striker Luis Suarez dropped a big hint on Wednesday that Leo Messi could be back to play a role in the 'Clasico' between Real Madrid and FC Barcelona on Saturday night.
Messi has been out of action with a knee injury suffered against Las Palmas seven weeks ago, but returned to full training with his team-mates earlier this week and when asked about whether Real Madrid players would maybe target the striker's knee should he play or whether Barca would look to hit Sergio Ramos' weak shoulder on Saturday, Suarez implied the Argentinean would be on the pitch in the Bernabeu.
"I'm not going to target Ramos's shoulder and I don't think anyone will target Messi's knee. We're all colleagues. Maybe we'll put a bit more pressure on him, but nothing more than that," he said.
"We don't know if he (Messi) will start or be on the bench. It's up to the coach (Luis Enrique), the doctors and how he feels. There's also a time factor and we have to bear in mind that him playing could mean running risks for the future," added Suarez, who nevertheless considered Messi to be "a big-game player," who has "always produced great things on these occasions."
During Messi's absence Suarez and Neymar have hit form together scoring 17 of Barcelona's last 19 goals between them and he said that he was happy they had "done a good job despite being without the best player in the world."
However, Suarez stressed Barca were not favorites for the game despite having hit somewhere close to their best form in their last league games, while Real Madrid lost away to Sevilla.
"When one team goes into the match looking weaker than the other, the roles are often reversed. People shouldn't get carried away because they lost their last game: they're Real Madrid," he said.