Arsenal manager Arsene Wenger said his team answered some of its critics after blanking Premier League title rival Manchester United 3-0 on Sunday.
Wenger was roundly criticized in the British press after the Gunners' 3-2 loss to Olympiakos last week left the team struggling to avoid a group-stage exit in the Champions League. He subsequently lambasted the media for focusing on his decision to select blundering backup goalkeeper David Ospina.
But his players responded in dazzling fashion at Emirates Stadium on Sunday, scoring three times in the first 19 minutes en route to a win that sent the Gunners to second place in the standings.
"That's what you want in games of that stature," Wenger said. "We started very strong, we decided to press very high, to play at a great pace, and we did that very well.
"In the second half we decided to be disciplined, control the result, so we had two aspects in our game that are pleasing and were convincing.
"It gives a strong answer to all the questions that were raised during the week."
Arsenal now trails leader Manchester City by two points.
"To win in a big game is always a statement," said Wenger. "We are in it, we are two points off the leaders, so I hope this result will give us belief and ambition to fight for it."
Alexis Sanchez scored Arsenal's first and third goals, a cheeky back-heel in the sixth minute followed by an 18-year thunderbolt, with Theo Walcott teeing up Mesut Ozil to slot home 74 seconds after the Chilean's opener.
Wenger revealed that Sanchez, who went off in the 81st minute, had sustained a "little groin problem," but said that he expected him to be fit for Chile's opening 2018 World Cup qualifiers against Brazil and Peru.
Meanwhile, United manager Louis van Gaal said he was "amazed" by the lack of aggression shown by his side in the opening stages, particularly after a run of four successive wins in all competitions.
The visitors created only two real chances, Arsenal goalkeeper Petr Cech saving smartly from Anthony Martial and Bastian Schweinsteiger, and they were badly overrun in midfield in the early stages.
But Van Gaal dismissed suggestions he erred by leaving out midfielder Morgan Schneiderlin, instead fielding Schweinsteiger and Michael Carrick. And he refused to discuss a disappointing display by captain Wayne Rooney.
"I never can answer that question because when I say it in a positive way, it's maybe not good and when I say it in a negative way, then it's in all the headlines tomorrow," he said.
"Wayne Rooney is a very important part of our team because he's our captain. That's much more important than individual evaluation in a newspaper."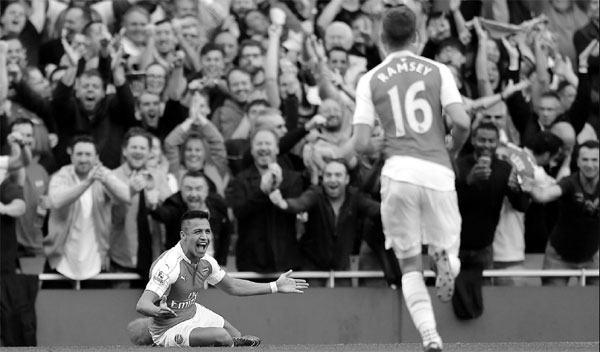 Arsenal's Alexis Sanchez celebrates with Aaron Ramsey after scoring his second goal of the game in Sunday's 3-0 win over Manchester United in London.Frank Augstein / AP
(China Daily 10/06/2015 page11)