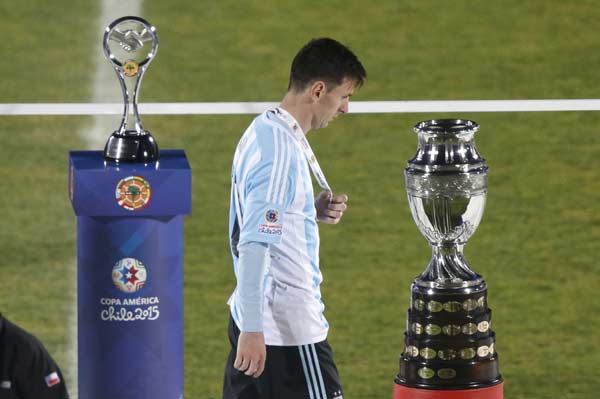 Argentina's Lionel Messi walks with his silver medal past the Copa America trophy (R) during the presentation ceremony after Chile defeated his team in the Copa America 2015 final soccer match at the National Stadium in Santiago, Chile, July 4, 2015. [Photo/Agencies]
BUENOS AIRES -- Argentinian soccer star Lionel Messi rejected on Wednesday criticisms surrounding Argentina's defeats at the finals of the World Cup 2014 and this year's Copa America in Chile.
The Barcelona forward also dispelled all doubts surrounding his future with his national team by saying that if Argentina's coach wants him, he will "never" say no.
"Unfortunately we could not win anything but I believe what we did has a lot of merit. It's not easy to arrive at a World Cup final and a Copa America final. I think that we received a lot of criticisms, and many of them in a horrible way, because what we did is worthy of merit," said the 28-year-old Messi.
While speaking to local television channel TyC Sports after drawing with Mexico 2-2 in Dallas on Tuesday, Messi, who scored one of the goals, highlighted the importance of the upcoming competitions.
"First are the World Cup 2018 Russia Qualifiers. We need to start well because afterwards things could get more difficult. You need to think of the short term," said Messi.
The defeat in the Copa America final to hosts Chile in a penalty shootout was a "hard blow", said the Olympic 2008 Beijing medalist.
"We were convinced that it was our moment and that we were going to be champions due to the way we arrived at the final. We had a lot of faith in ourselves. It was a hard blow for everyone," added Messi.
Messi concluded by guaranteeing his continued appearance in the team, coached by Gerardo Martino, despite rumors that circulated after the Copa America defeat about taking a "break" from the team.
"As long as the coach wants me, I will always be there even through the bad times. We have come very close but new challenges are coming," said Messi.