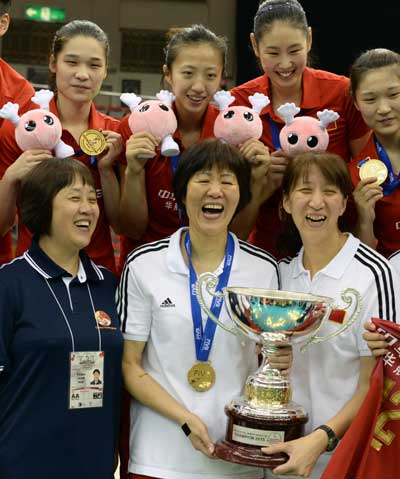 Lang Ping (C), China's head coach poses with her team after defeating Japan to win the FIVB Women's World Cup in Nagoya, Japan September 6, 2015. [Photo/Xinhua]
Zhu Ting received the Most Valuable Player award after having 23 kills and four blocks to lead the Chinese team to the 25-17, 22-25, 25-21 and 25-22 victory in the last match of the tournament. Zhang Changning and Yan Ni added 13 and 10 points respectively.
Having lost two important players that helped China claim the silver medal in last year's World Championship, namely former captain Hui Ruoqi and Yang Fangxu, in less than two months before the start of the tournament, the Chinese women adapted quick enough to capture the World Cup with sound and solid performance, losing only to world champions the United States in the third round.
Chinese sports fans could be comforted by the victory following their national women's basketball team's disappointing 85-50 loss to Japan on Saturday.
"The victory is even more precious after the defeat of the women's basketball team," Wei added.
After holding off Russia 3-1 in Saturday's high-profile clash between two former World Cup winners, China set off to a flying start in the match against Japan, taking the first set easily. The Japanese women fought back in the second as they staged a 6-0 run on back of quality services from Yurie Nabeya to overtake the lead at 22-18. China managed to pull within 24-22, but a net violation costed them the set.