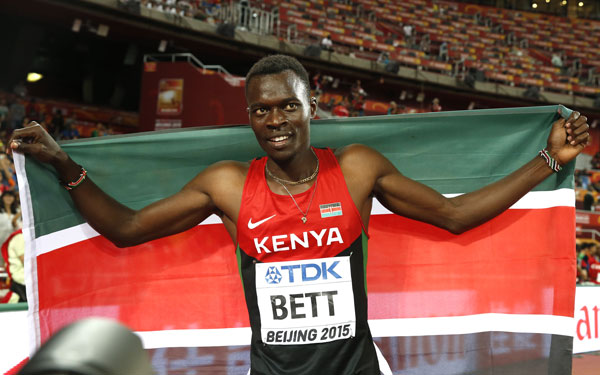 Nicholas Bett of Kenya celebrates with his national flag after winning the men's 400 metres hurdles final during the 15th IAAF World Championships at the National Stadium in Beijing August 25, 2015.[Photo/Xinhua]
NAIROBI - Africa 400m hurdle bronze medalist Nicholas Bett cemented his name in history to become the first Kenyan to win gold in sprints at the World Championships.
Bett, stuck against odds, held firm to win gold in the 400m hurdles. Sprints coach Stephen Mwaniki said in Nairobi on Tuesday the victory will help change the bad perception the country's athletics officials have had over the short races.
"We have talent in Kenya in sprints. We always had talent. Look back in 1972 at Munich Olympics and that generation of athletes, they filtered into the system and brought fourth more sprinters, but the Athletics Kenya (AK) officials never took sprints seriously," Mwaniki, who trains Bett in Nairobi, told Xinhua.
Prior to the trip to Beijing, Bett had camped in Pretoria for three weeks training. He also had a stint in Finland with his agent and coach Petteri Piironen.
"His performance today in Beijing was down to discipline and focus. He always knew that he had the physique and height. But he required a little jolt and support to get to the global stage and Beijing has been the answer to his determination," said Mwaniki.
"Hopefully, it will inspire younger athletes to stick to sprints because the trend has been for them to transform to 800m and above after the junior ranks," added the coach.
Bett, a police officer in Kenya, can now bask in the glory of being the first Kenyan to win gold at the global stage in races under 800m. The only other medal ever won in sprints was in relays and it was way back in 1972 Munich Games.