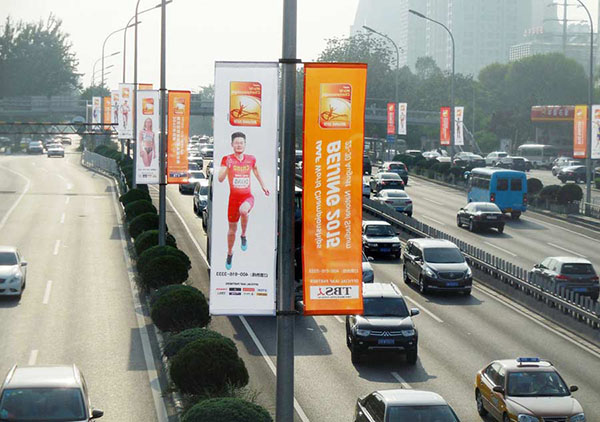 Banners of the 15th IAAF World Championships are hung by road in Beijing, Aug 5, 2015. [Photo/IC]
In the men's 100m, Su Bingtian is out of the reach of the podium, as the event's stars are defending champion Usain Bolt of Jamaica and Justin Gatlin of the United States. However, the Chinese team will be pleased if Su can better his own national record of 9.99 seconds, achieved in in May's Diamond League in the US., which made him the first Chinese runner to break the 10-second barrier.
"I hope I can run under 10 seconds again at the Beijing worlds," said Su. "There is no limit for human beings, so I don't think 9.99 seconds is my limit. If I continue to work hard, I will reach another personal best."
Zhang Guowei, a rising star in the men's high jump, nailed the world's second best of 2.38 meters this season and is looking to beat the 31-year-old national record of 2.39 meters set by Zhu Jianhua in 1984.
"I think I will reach my best form in the following week, which is good for me to perform well at the competition," Zhang said. "I will compete with myself."
Feng introduced a new department to focus on jumping, sprinting and hurdle training in 2012 that has helped athletes make rapid progress, he said.
"What we lack now is breakthroughs," Feng added.
He said the team was inspired by the achievements of their swimming counterparts at the world championships in Kazan, Russia, earlier this month.
"I watched all the races of the Chinese swimming team at the world championships. Their performance inspired me. Our team should learn from them," said Feng.
The Chinese swimming team gained five gold medals, one silver and seven bronze at the Kazan World Championships, which concluded on Aug 9.
"I hope I can hear the national anthem in Beijing and see the national flag raised as many times as possible," Feng added.
Xinhua contributed to this story.