GABALA, Azerbaijan - Chinese marksmen Hu Haozhe and Lao Jiajie each grabbed a ticket to Rio 2016 on Wednesday by wrapping the gold and silver medals at the 25-meter rapid fire pistol event in the world cup.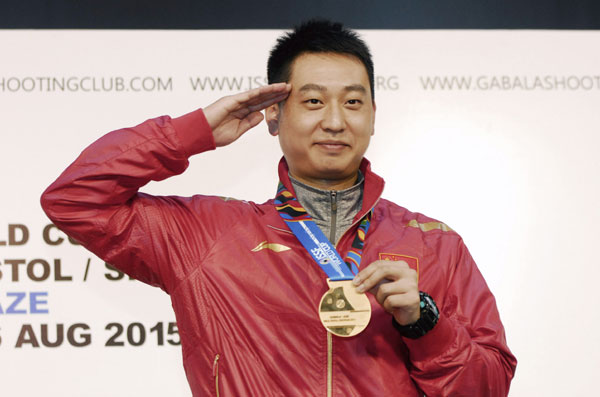 Hu Haozhe poses with his gold medal. 

 [Photo/Xinhua]
Hu, 27, and Lao, 25, upset France's Boris Artaud, their final opponent in the quota place contest, by both shooting a perfect 5-hit round in the seventh series to ensure the top two positions by an advantage of two hits over the 25-year old Frenchman.
Hu, the runner-up at the world cup in Munich 2014, then claimed his first world cup title with a perfect final round, while Lao, only competing in his second international tournament, took the silver with 3 hits from the last 5 shots.
Artaud finished with a bronze, his first world cup medal in career.
"I think less, and do more," Hu told the International Shooting Sports Federation website when referring to his outstanding performance of 15 hits out of 15 shots in the final three rounds.
Hu is the first Chinese to win this event in the last two years since Li Yuehong won the gold medal in Granada, Spain in July, 2013.
China, a tradition powerhouse in shooting sports, has obtained 22 tickets to Rio 2016 from 11 out of 15 Olympic events.
Earlier in the day, rifle shooters failed to end the quota place drought for China in the men's 50m rifle prone competition as neither of the two shooters could qualify for the 8-men final.
Russia's first-time finalist Kirill Grigoryan, 23, clinched the gold medal by defeating 2004 Olympic Champion Matthew Emmons from the United States. Tomas Jerabek of the Czech Republic finished the third.
The last ISSF World Cup stage of the season, with 34 Olympic quota places on offer in 15 events, will conclude here on Saturday.