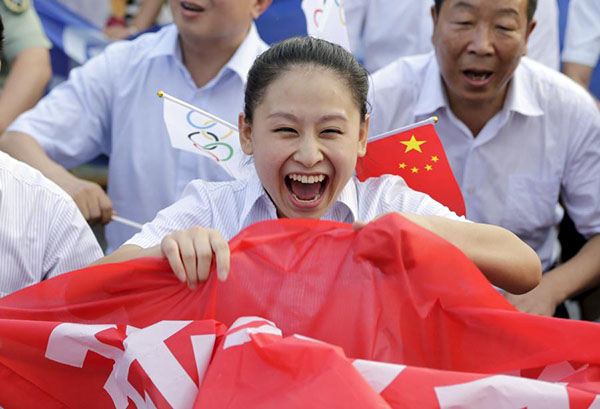 Local resident Zhang Jing celebrates after Beijing was chosen to host the 2022 Winter Olympics at a square in Chongli county of Zhangjiakou, jointly bidding to host the 2022 Winter Olympic Games with capital Beijing, July 31, 2015. [Photo/Agencies]
Success fits with the national project to integrate development and control pollution, mayor says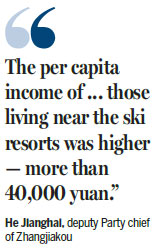 Bid officials said winning the hosting rights for the 2022 Winter Olympics will fuel regional integration between Beijing, Tianjin and Hebei province, especially on transportation, air pollution control and tourism.
Beijing hosting the Games with Zhangjiakou in Hebei fits nicely with the national project to pursue integrated development between the three areas, according to Wang Anshun, Beijing's mayor.
Wang said on Friday that a successful bid would greatly fuel the industrial structure of the combined region by offering improved infrastructure facilities.
The joint rights would also require closer cooperation between the two host cities, advance efforts to control air pollution and boost winter sports, related industries and tourism, which could create more jobs and improve residents' livelihoods, Wang said.
China has designated three venue clusters in downtown Beijing, Yanqing county and Zhangjiakou.
All the ice events, including speedskating, ice hockey and curling, will be held in downtown Beijing. A Nordic and Biathlon Center will be built in Zhangjiakou and an Alpine Ski Center in Yanqing county, northwest Beijing.
According to a report by the Hebei Academy of Social Sciences, a successful bid means that Zhangjiakou will prepare for the Games by creating more than 400,000 jobs for local residents before 2022.